This $42 Find From Target Is The Perfect Summer Piece For Your Backyard
Credit: Outer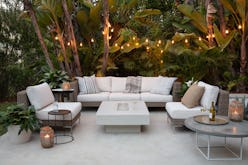 Summer is finally here, which means more time spent outside in the warmer weather. And while a sunny vacay is always nice, your new favorite sanctuary might be closer than you think. With some designer-approved backyard decor ideas, you'll be able to turn your outdoor space into a summer oasis — one you might never want to leave.
"The most important part of a well-designed outdoor space is to not treat it as an after-thought, but to make sure that it is given the same considerations as the other areas of your home," says Lauren Cox, design program manager at Havenly, a home design company. "Your front porch is like a pre-foyer and can really set the tone for your guests, so it's important that it reflects you and your home's personality; and backyard patios often replace indoor dining rooms in the warmer months, so they should feel just as warm and cozy."
Yes, you may get a chance to hit the road or take a summer vacay, but if the next best thing is to create an escape that's right outside your door. Whether you have a small, sunny balcony or a sprawling yard, ahead, you'll find a slew of outdoor decor ideas so you can design an oasis of your very own.
First, Define Its Function
"Think about how you currently use the space and how you ideally have dreamed about using the space," suggests Terry Lin, co-founder and chief design officer at Outer, an outdoor furniture company. "Define the functionality that you want to achieve to start. Are you looking for a quiet nook to read, [a place to] host parties with larger groups, or have a space for your kids to play while still maintaining a stylish space?"
With that said, Cox promises that the perfect backyard escape doesn't have to be complicated, especially if you're working with limited square footage. "All you really need to create a well-designed outdoor space for relaxation or socialization is a place to sit, some refuge from the sun, and a refreshing drink," she points out. "Transforming your patio to an inviting sanctuary can be as easy as adding a pair of chairs, an umbrella, and a side table." She recommends woven chairs with weatherproof fabric to encourage lounging, and if the area is particularly spacious, "you can treat the outdoors as another full room in your home, complete with seating for large groups of people, and all the decorative accents you might also find indoors."
Another genius idea — especially for tighter areas — is to utilize multi-tasking items. "For a small space, I love dual purpose pieces like poufs or ottomans that can function as a seat or as an end table," says Cox. For instance, "the right pouf can also be brought indoors as extra seating!"
Start With Your Core Furniture (& Build From There)
When it comes to designing larger backyards, Lin advises building your concept like a pyramid, beginning with your bigger, core pieces and ending with accents. "At the base of the pyramid are your foundation pieces. [They] are the big ticket items that go in your outdoor space; sofas, and loungers and dining tables," he explains. "They should be relatively neutral in terms of profile and color. The middle of the pyramid is your mid-priced items: coffee tables, accent tables, hurricane lanterns. You can begin flexing some of your style in these items. At the top of your pyramid is your fashion layer. These are your lower-priced items like pillows, throw, and decorative accessories. With a quick swap out, you can go from a summer look to an autumnal look without breaking the bank."
Bring Your Indoor Decor Style Outside
Cox insists that your interior style should also flow into the exterior — after all, it's a continuation of your home. "Your outdoor space should act as a preview for the style seen in the rest of your home, and should mirror a lot of the same comfortable and inviting elements you already love," she suggests. "Layer in bits of your personality and design style through small accents like decorative pillows, planters, and even rugs."
Still stumped? The designer shares a foolproof tip. "If you're really not sure where to begin, lean in to materials already found in nature for a seamless and natural look; think linen, woven materials, and natural woods."
Add (More) Greenery
It's so simple, yet it's a novel idea: Adding lush plants to a patio or deck area can bring tons character to an outdoor space. "This may seem redundant since you're already outdoors, but adding some potted succulents or flowers are a great way to add in visual texture, color, and shapes to your outdoor space," says Cox. Lin adds, "Planters not only help to add additional life into your outdoor space but they help to define your space walls do for a room. I tend to like simple planters with minimal embellishments or colors so that the plant is what your eye is drawn to."
Incorporate Lighting
It's well known that lighting sets the mood, and this is true whether you're indoors or out. After all, there's nothing cozier than walking into the glow of a brightly-lit yard on a balmy evening. "Lanterns on a tabletop or string lights are an easy and often budget-friendly way to create a really cozy space without a lot of effort," recommends Cox, and Lin agrees. "Being able to enjoy your outdoor space in the evening with lighting adds a magical quality that is completely different at night," he says, adding, "I am obsessed with mix and match hurricane lanterns."
Another source of light (and heat) to consider is the flickering flames of a fire pit. Portable versions can be very budget-friendly, or you can go all out with a luxe structure built right into your patio.