How Living Proof's New Detox Shampoo Targets Buildup For Softer, Shinier Hair
Living Proof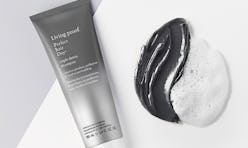 If there's any wellness term that trends just about every January, it's definitely "detox". The new year is an ideal time to kickstart new healthy habits and routines, in the hopes that they'll stick with you going forward. And in case you haven't heard, your hair needs a reboot just as much as your diet and exercise routine — especially if it's been awhile since your tresses got some TLC. The good news is, you don't even have to add another step to your shower regime: Just swap Living Proof's Triple Detox Shampoo for your standard bottle.
High-quality haircare brand Living Proof is all about helping you get your best hair possible, and its latest launch is no exception. Living Proof dropped the brand-new Triple Detox Shampoo on Jan. 15, and it's about to totally change the way you wash your hair — without tampering with your routine. No, really.
Amidst the recent rise of many anti-buildup hair and scalp care products, announcing a new buildup-busting shampoo doesn't seem revolutionary at first glance. But the beauty of Living Proof's just-launched product is actually how basic (read: easy) it is to use. The non-stripping, color-safe shampoo, $28, simply replaces your usual hair cleanser whenever you're in need of a total refresh. No extra steps, no gimmicks, and no fuss.
That's because the shampoo's scientifically-developed formula works smarter, not harder, thanks to a slew of innovative ingredients, including one buzzy additive you probably already love. Activated charcoal works alongside the shampoo's buildup-fighting agents — which alleviate hair of product residue, pollution particles, and hard water deposits — to absorb excess oil from your scalp and strands. Yes, the same ingredient that's beloved for banishing hangovers and detoxing skin has made its way into haircare, and it promises to make scalp buildup and overly oily roots a thing of the past.
The super-efficient shampoo (which can attribute its inky black color to the charcoal hero ingredient) is still gentle enough to use on processed hair and as frequently as needed, based on how often you use styling products and how hard the water is in your area. Plus, it's free of sulfates, silicones, and other icky ingredients you'd prefer to go without.
What can you expect when you swap Living Proof's new product for your standard shampoo? Use at least once a week and it promises softer, shinier, more full-of-life hair, and a scalp that feels fresh, nourished, and balanced. Shop the new shampoo on Living Proof's site below, or at your local Ulta or Sephora starting Jan. 25.