Editor-Approved Cleansers To Refresh Your Skincare Routine
Ivan Lattuada/IMAXtree.com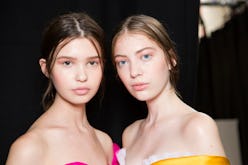 Every beauty aficionado knows that taking care of your skin is just as important as the pretty shades you apply to it daily. And whether you're prepping your look in the morning or removing your makeup after a long day, the right cleanser is essential for a healthy, radiant complexion. From gels and exfoliants to muds and clays, our edit has something at every price point, for every skin type. Here, shop the face washes Team Zoe swears by.
Clean Up
"I rely on this to keep dirt and sweat from causing breakouts after I work out. It contains lactic and salicylic acids, which whisk away pore-clogging dead skin, plus activated charcoal, which sucks dirt and oil out of my pores and keeps my skin glowy and soft. Willow bark and tea tree oil also help keep my complexion balanced."
—Allie Flinn, Associate Lifestyle Editor
"I'm completely obsessed with this line—it's perfect for sensitive skin like mine. The oatmeal cleanser in particular is really gentle but very effective and doesn't strip my skin—my face feels soothed after each wash."
—Laura Lajiness, Fashion Editor
"My oily skin and occasional bouts of adult acne have made me very choosy when it comes to skincare. I absolutely love Éminence's organic, back-to-basics approach to beauty and this cleanser is no exception. The gentle formula makes my face feel squeaky clean sans the tight, dried-out effect that can come from oil-free cleansers."
—Angela Melero, Managing Editor
"I hate when my skin feels dry and tight after washing. But this cleanser leaves it feeling incredibly clean, refreshed, smooth and actually hydrated. It aids in improving texture, combating breakouts and preventing free radical damage, which is so important for my dry, acne-prone skin. It's pricey but totally worth it in my book—you only need a small amount to get a lather, so one bottle lasts a long time."
—Amy Lee, Fashion Editor
"This gentle formula contains deep-cleansing properties as well as sage oil and lavender to calm skin. Plus, I love that it doesn't contain any sulfates."
—Nicky Deam, Editorial Director
"I've been religiously using this cleanser for a decade, and it's the only thing I allow to touch my face on a daily basis."
—Samantha McDonald, News Editor
"Glycolic acid is a must-have in your beauty routine, and this gentle cleanser also has less clinical-sounding ingredients like pineapple, pumpkin and papaya enzymes."
—Erin Nicole, Senior Lifestyle Editor
"Flare-ups don't stand a chance against this cleanser. The super-gentle exfoliant really works to remove impurities and excess oil while actually treating acne and preventing future breakouts."
—Andrea Navarro, Associate Beauty Editor
"I have very oily skin and this clay cleanser is one of the few that can keep it in check. I love how it makes my face feel super clean but not tight or dry."
—Stephanie Montes, Beauty Director