The $30 Curtains That Will Instantly Brighten Your Living Room For Summer
Alyssa Rosenheck for Mel Bean Interiors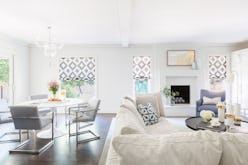 Minimalism has been a major home decor trend for a few years now, which can easily be exemplified by a quick scroll through Instagram: white walls, furniture and decor with simple shapes and clean lines, and sparse, neutral-toned accessories seem to be the essential components of many photogenic interiors. But regardless of whether or not you're a fan of the style, you've got to admit that it can be an obvious solution to figuring out how to brighten up your home. With the right tips and tricks, you can get a similar effect even if you're not into minimalism — and the results are chic, not sterile.
Between your lighting, paint, and furniture and accessory choices, there are plenty of ways to lighten and brighten up any space in your home this spring while staying true to your aesthetic and injecting some much needed personality. And if minimalism is your thing, the details are still super important. In either case, experts have a few recommendations that can bring those desired vibes into your home this season, and they're probably a lot simpler than you think (nor do they have to cost you a fortune). Ahead, find a few pro tips that will create an environment that's airy and light, as opposed to cold and bare.
Add Personal Details
"Even the most simple space should reflect your personality," says Mel Bean of Tulsa's Mel Bean Interiors. "Include personal items that are meaningful to you; It helps to create a collected look and will prevent your home from feeling sterile. In my home, I've achieved this in a variety of ways: an oversized painting I bought in Cuba, an African ceremonial sculpture I picked up while traveling in Cote D'Ivoire, and books and pottery from my grandparent's farmhouse."
Include Natural Elements
"If you like a clean palette and don't want to add much color or pattern, adding in a standing plant in a woven basket will give you both the pop of the fresh green tree as well as the texture of a woven basket that can warm up a space without overwhelming it," says Jess Cooney of New England's Jess Cooney Interiors. Besides plant and planters, you can shop decorative details in materials like sisal, jute, wood, and bamboo to get this effect.
Mix Up Textures
"Consider a variety of textures," offers Bean. "Distressed wood, wallpaper, plush velvet, rough linens, natural stone. A truly minimal space relies heavily on texture to bring life into it!" And Cooney seconds the notion that wallpaper is an unexpected way to achieve this. "We love wallpaper to brighten up a space and give that great pop to a room," she explains. "It's easy to replace down the road and gives so much texture and color to a space that could otherwise be neutral or minimalist."
Use Textiles Accessorize
"Throw pillows and throw blankets can dictate the whole vibe of a space" explains Cooney. "With a neutral palette as a base. You can swap out throws seasonally or yearly to give a completely different effect and give a finishing touch to a space without the long term commitment."
Bright Doesn't Have to Mean White
You don't have to limit your palette as much as you think to make your space feel lighter. "White isn't the only color option for a bright space," says Bean. "A very pale version of other colors can brighten a room and create a unique and unexpected feel. Think the palest blush, softest blue, or barely there taupe."
Use Color Strategically
If you do want to play with some pops of color, Tammy Price, designer and creative director of Fragments Identity, has some suggestions for shades that pair especially well with a neutral base. "Adding deeper colors into accents such as olive and persimmon can work really well with a white base," she says. "Fig and chocolate colors can also create a deep rich transition with whites if you're looking for something with a bit more contrast."
Take Advantage of Natural Light
"Use window treatments to your advantage to brighten a space," says Bean. "Sheer drapes that hang wide and leave the glass fully exposed help broaden the reach of natural light while still adding softness and a luxurious finishing touch."