The Most Spring-Ready Finds From Urban Outfitters' Home Sale To Brighten Up Your Home
Urban Outfitters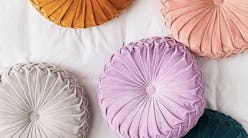 Just as you're likely brightening up your wardrobe for the warmer months, the same can be done for your home. And this breath of fresh air doesn't have to break the bank either, because lucky for you, there's a slew of cheap spring décor items to be found in Urban Outfitters' huge home sale. From colorful pillows and blankets to wall-hangings, you can refresh your space for summer without over spending.
For a limited time, Urban Outfitters is offering up to 40 percent off home décor. And while more expensive pieces are also up for grabs with discounted prices, if you're looking to switch up your living space for not a lot of money (like under $50) stick to scooping up smaller, low-cost items that'll still make an impact. And there are plenty to choose from.
Instead of replacing your couch and sweating over the dent it'll put in your budget, a more cost-effective way to change it up is by bringing in a fresh set of pillows. There are tons of styles in the mix that'll do the trick, including the Round Pintuck Pillow, now reduced to $34 from $39. Available in a range of shades, the velvet, plush pillow can add a dose of pretty lavender, rich chartreuse, or eye-catching burnt orange (among other colors) to your living room for a low cost.
Another easy way to bring texture and color to a space is with the addition of a throw. The right one will not only provide a stylish element, but a functional one, too — aka you'll have something to wrap yourself up in once that air conditioner kicks on for the summer. One such style in the sale that checks both boxes? The Amped Fleece Fringe Trim Throw Blanket, now down to $49 from $59. This cozy piece comes in a happy golden yellow hue and will become your go-to for movie nights or for curling up with your latest read.
You can create just as much change in a space with a few inexpensive decorative items as you can with one pricey purchase. Continue on to shop nine styles that'll bring new life to your space for under $50 while this sale is happening.