The Best Accent Wall Color Combos For Those Torn Between Swatches
@benjaminmoore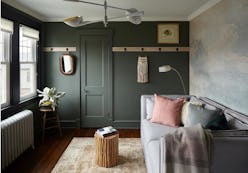 For the budget-minded, there's likely no better way to make a major statement or dramatic change in your home than with a can (or two) of paint. Color can totally switch up the mood of any room, so a little bit of hard labor can really pay off when you're looking for a little home makeover. That said, when covering your entire space in one color feels like too big a commitment, creating one accent wall can be an ideal solution. But if you're up for a something slightly more experimental, taking a dual approach with an accent wall color combination that will offer an even more unique feel.
An accent wall could mean any way of highlighting a specific wall in your home — whether through color, pattern, or art. And if paint is your preferred method of achieving this, perhaps it's worth considering doubling down and picking two colors that either complement or contrast for even more visual stimuli. But even if you're down to give this a try, the question of which shades to choose still remains. That's where design expert Elyza Brillantes comes in.
Brillantes works with inclusive online interior design platform Havenly, so she's learned through experience how some color combos just seem to do better together. That said, she's come up with three different duos to try if you're contemplating giving two accent walls a whirl.
Black & White
When you're thinking about accent colors, it's easy to overlook the timeless combination of black and white — but that doesn't mean it can't have just as much impact or be just as bold. "You can never go more classic than black and white," Brillantes shares. "Benjamin Moore's Wrought Iron and Chantilly Lace is the perfect backdrop for a modern or minimalist room, and can easily complement other accent colors." To keep this combo from feeling cold, she recommends including bronze and gold pieces throughout the space for additional warmth.
Tonal Greens
While black and white certainly offer a dynamic feel, not every accent wall combination needs to be so oppositional. Consider a super subtle approach, like picking two slightly different shades of the same color. Brillantes loves the pairing of two greens that differ just slightly. "Benjamin Moore's Newburg Green and Tarrytown Green would be a bold combination to highlight a dark and edgy style," she suggests, "They're part of [the brand's] Historical collection and, paired together, give a bit of a vintage vibe."
Light & Dark Grays
For another monochromatic option, Brillantes suggests going gray. Neutral tones are always great because they're versatile — but that doesn't mean they have to be boring. "Grays are a timeless option for a reason," she says. "They provide the perfect neutral backdrop for a variety of finishes and accent colors." That said, gray has a tendency to feel cold if you pick a shade that doesn't suit your space, or isn't accessorized to counteract that. To help avoid this, opt for shades that have depth and a slightly warmer undertone, like Benjamin Moore's Ashwood Moss and Cos Cob Stonewall.