The Chair Every Minimalist Should Own, According To An Interior Designer
Photographee.eu/Shutterstock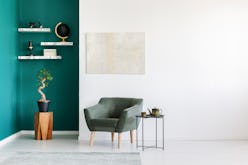 Contrary to popular belief, being a minimalism enthusiast doesn't necessarily translate to having a colorless, sparse space devoid of any personality. It's true that most fans of this type of design have a penchant for a clutter-free home, so it's easy to focus on what not to keep around versus what pieces you'll want to invest in. That said, if you're trying out this style, there are a few key home essentials for the minimalist that will create not only a sleek space, but also one that still has a sense of warmth and individuality.
Knowing which brands and stores are always reliable for finding minimalist-leaning decor and furniture is helpful, but you also need to know the pieces that will best suit your pad. And while that can vary greatly from home to home, there are definitely a few things any minimalist can benefit from, according to top interior designers. As a stylist of chic interiors and events in Los Angeles and Austin, Abby Pendergrast has learned to master a variety of styles to suit her clients — including a minimalist approach. For her, the trick to mastering this type of decor is balancing clean lines and negative spaces with details that keep if from feeling cold and impersonal.
Want to know how you can achieve a minimalist vibe in your home while still making it feel inviting? Ahead find Pendergrast's list of essentials any minimalism design lover should own, plus an example of each that might just get you inspired for a little revamp of your own.
Potted Plants
"Since the decor is kept to a minimum I think it's essential to warm up the space with a few plants," says Pendergrast. "They definitely need to be potted in something with clean lines and these Modernica ones are my absolute favorites!"
Coffee Table Books
According to Pendergrast, another item to invest in is a chic coffee table book that serves as both decor and a nod to your personal interests. She suggests choosing one that will "reflect the decor or interests for styling purposes and show personality without being too visually cluttering in terms of decor."
Stylish Storage
"Stylish storage is essential as you'll want everything to have its proper place and to be tucked away," says the interior stylist. "Having said that, this Urban Outfitters dresser is great for not only the bedroom but used as a console or side board for living room storage as well!"
Furniture With Strong Shapes
Minimalism certainly doesn't have to be boring. This style may favor clean lines and often a limited color palette, but that said, you can still play with furniture pieces that make a statement with strong shapes. "Quality over quantity is key in minimalist decor so, since you'll be focusing on fewer yet high quality pieces, invest in things you truly love and that have a bit of a designer edge with clean lines," explains Pendergrast.
Statement Wall Art
Just because you're avoiding clutter doesn't mean your walls have to be empty. Minimalists can still play with artwork in a way that feels cohesive with their space, and creates some visual interests. Pieces like this simple line drawing would be a perfect addition if you're limiting color but still want a cool, graphic touch.