Chrissy Teigen's Sofa Is The Piece You Didn't Know Your Home Needed
Lars Niki/Getty Images Entertainment/Getty Images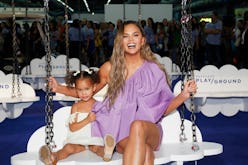 The power Chrissy Teigen has. From her truly hilarious tweets to her Midas-touched projects and collabs, there are so many reasons to look forward to what this multihyphenate does next. And judging from one of her latest viral posts, perhaps she needs to throw her hat into the interior design ring. A recent off-the-cuff tweeted image of Chrissy Teigen's home interior proves that her style and influence isn't just limited to her vacation looks, her successful line of kitchen goods, her best-selling cookbooks, and the beauty products she's co-created. Seriously, what doesn't this woman do?
When Teigen took to Twitter to share her latest home decor purchase — an oversized, plush sectional which she was admittedly afraid of ruining — the public got a sneak peek into her interior aesthetic. The chic space seamlessly blended elements of classic and modern design, all the while being cozy enough to create the ultimate family gathering spot (where the couple who defines relationship goals likely hunkers down for a Bravo watching sesh).
"Chrissy's overall style in this space is what we like to call BoCo: Bohemian Contemporary," explains Lance Thomas, who co-owns Louisiana-based furniture and interior design company Room Service with partner Drew Hoffpauir. The duo agrees that comfort is a cornerstone of the space's design, which appeals to many families looking for a lived-in look over an overly formal one. And while the overall feel is upscale — and likely Teigen paid top dollar for more than a few of the key pieces — it's not impossible to get the look for a bit less. Ahead, find some tips from Thomas and Hoffpauir as well as Toronto-based designer Anne Hepfer on what to look for if you want to emulate the living room's vibe, plus some specific items to consider.
The Sectional
What likely drew Teigen and Co. to this sectional was the ample size and depth as well as the sumptuous texture (and velvet just so happens to be ideal for fall feels). When looking for something similar, Hoffpauir suggests focusing in on those features. "With this sofa and similar styles, the bench cushion adds a streamlined simplicity to the oversized scale — perfect for anchoring the space without being frumpy," he says. "When trying to achieve a similar look in your space, try to find a sectional with a 43-inch depth."
The Coffee Tables
"Natural wood drum tables keep it family room friendly and complement the wood base of the sectional while creating warmth in the space," explains Hepfer. And Thomas adds that the oversized scale helps to balance out the sofa.
The Rug
"It's a great idea to bring in more of those boho textures with a wool and natural fiber rug," says Thomas. "Global patterns help to bring the BoCo vibe home as well!" Additionally, the Moroccan rug's shaggy texture adds some warmth to the space, which Hepfer explains is perfect for the fall season as well.
The Lamp
One of the more whimsical elements of the room, the pendant lamp is "modern and playful," says Hepfer. This dupe from IKEA will similarly diffuse light for a warm effect and the organic texture keeps with the BoCo aesthetic. And the price just can't be beat.
The Art
"Oversized abstract art helps to add a contemporary art gallery feel to any room," shares Hoffpauir. "Incorporating a larger statement piece like this helps to balance out the oversized sofa and add visual interest." And while an original painting, like Teigen's, can command top dollar, you can also shop out large-scale prints to get the look for less.