This Fall Fabric Is Basically Like A Pumpkin Spice Latte For Your Home
Followtheflow/Shutterstock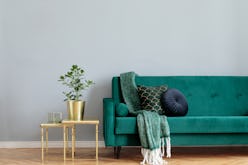 There are a few things that just instantly get you in the mood for fall, like the changing colors of the leaves, a chunky knit scarf, and pumpkin spice everything. But there are ways to bring that vibe into your home as well — and it doesn't just involve having some kind of baked good in the oven. By incorporating a few key fall textures, you can easily transport your space into the forthcoming season, and you don't even have to splurge to get the effect.
During the steamy summer season, you may have made a few tweaks in your home that make everything feel a bit brighter and lighter (like earthy materials and lightweight fabrics). You can think of your fall refresh similarly. Even adjusting something as simple as your bedding (which, as an added bonus, can actually help you sleep better) or tossing on a few different throw pillows might make all the difference in the world — so long as you keep in mind fabrics that experts say will give you all the warm, fuzzy feels you typically associate with autumn.
To help you get the look in your home ASAP, Modsy's Vice President of Style Alessandra Wood has a few suggestions of the textiles you should incorporate — from the ones you can score for a steal to those worthy of a little investment. Learn more about all four ahead.
Velvet
"Velvet, especially in deep colors, is the perfect way to welcome fall and winter," explains Wood. "The fabric is plush, soft, and beckons you to cozy up." And while she admits that those willing to spend a bit more could spring for furniture pieces in the fabric, a more affordable way to try it out is with an accent pillow or pillow cover, or even your window dressing. They're also much easier to swap out when the warm seasons return.
Faux Fur
The look of a sheepskin rug — ideally next to a cozy fireplace — is pretty much the fall fantasy (just insert some spiked cider and you''re all set). But because the real deal can be both costly and a less ethical option for some, there's not shame in going faux. In addition to placing a fuzzy rug beside your bed, you can look for the material in the form of a throw blanket. Or take Wood's advice and grab a bunch to create a "luxe lounge experience."
Cashmere
"Isn't the best thing about fall pulling out your cashmere sweater collection?" says Wood. "You can create the same plush feeling in your space with cashmere pillows and throws." The aforementioned wardrobe staple can be a little bit spendy, but it totally worth a splurge, adding a cashmere blanket to your couch or bed can create a luxurious feeling that is arguably priceless.
Flannel
Time to switch up your summery linen sheets for something a little more substantial. "Flannel is the perfect material to make your bed winter-proof," Wood points out. "You don't have to opt for the traditional plaid if that's not your style, as you can get neutral-colored flannel sheets for a more sophisticated look." Just be wary if you're an especially sweaty sleeper by nature.