This Cocktail Will Satisfy Your Fall Flavor Craving — Without The Pumpkin Spice
Elena Veselova/Shutterstock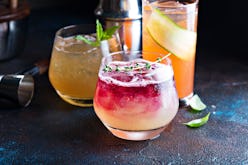 Somehow it's already the midpoint of August, which means that technically there's just a little over a month left of summer. And if you happen to be smack dab in the middle of a relentless heat wave right about now you're probably already ready for the season to start. While there's not much you can do to speed up the weather, you can start to surround yourself with stuff that gives you those autumnal vibes ASAP — and that includes what you're sipping. Even if you're not quite ready to break out the pumpkin spice just yet, there are a few fantastic fall cocktails for a crowd that will impress even your most discerning dinner party guests.
Just as your go-to summer cocktails were likely those that utilized a lot of seasonal ingredients, like watermelon or strawberries, a beverage that captures fall's essence can easily be made by highlighting simple ingredients and flavors that you associate most with this time of year. But that doesn't mean they have to be so obvious. You can save your PSL for a little later in the season and instead embrace some mixologist-approved concoctions that are a little more unique, but will nonetheless give you a brief respite from the summer heat.
Ahead, find six such fall-worthy drinks from a few creative cocktail makers. They'll have you ready and willing to break out your bar cart and essential tools and whip up a batch right now.
Autumn Bell
This combo of spiced pineapple, mezcal, lime, Falernum (a syrup with ginger, lime, almond, and all spice that's common in Caribbean cocktails), and Gochugaru (a Korean chili flake) comes courtesy of Nick Meyer, Beverage Director at Ronan in Los Angeles, and it's the perfect gateway drink to transition from summer to fall, thanks to the tropical ingredients.
"For our Autumn Bell, we spice our pineapple [simple syrup] with star anise, fennel pollen, cinnamon, clove, ginger, and nutmeg, and add a little Gochugaru for a little pepper spice kick," he explains. "This drinks like a summer favorite, but is loaded with autumn flavors!"
Shrub Zero
Forget pumpkins and go for another equally fall-friendly fruit in this cocktail. Made with dried persimmon, chocolate mint, and amaro soda, this concoction from Meyer is sure to give you the same seasonal feels. The base of the drink is a dried persimmon shrub, or concentrated syrup made of fruit, vinegar, and sugar — and the used of dried fruit means you can actually make it year-round.
And because the Shrub Zero is made with amaro, an herbal Italian aperitif, it's the perfect substitute for your usual summer spritz, which also highlights the liqueur. The mixologist adds that there's another reason to love this drink — you can easily leave out the booze for anyone who's not imbibing. "We also love this cocktail because it can easily be served non-alcoholic, with just the persimmon shrub and club soda," he says.
Southpoire
This twist on the classic Southside cocktail (gin, lime, simple syrup, and mint) features pear in three ways. "Take advantage of local fall pear varieties from the farmer's market," suggests Meyer. His concoction combines pear shrub, caramelized pear simple syrup, and cold-pressed pear juice with the other traditional Southside ingredients as well as a touch of Sicilian almond and is finished off with fresh mint and candied almonds.
Bourbon Butter
There's just something about bourbon that instantly feels like fall, which is why this beverage from Matt Landes, founder of Cocktail Academy, is so perfect for the season. In lieu of pumpkin, the cocktail features another fall fave, butternut squash, as the star ingredient. "We've incorporated a butternut squash puree that's been lightly sweetened, coupled with bourbon and orange bitters for a luscious cocktail that everyone will enjoy," he explains. To make it, combine two ounces of bourbon, one ounce sweetened butternut squash purée, 3/4 ounce lemon juice, and two dashes orange bitters. If you can't resist adding a little pumpkin spice, a little sprinkle on top wouldn't hurt either.
The Perfect Pear
Another way to play with pear for the season is with this autumnal drink that's made with rye whiskey, blanc vermouth, lemon, honey, and pear juice. "This drink is refreshing and best of all it's quite simple to make," Landes says. "The warmth of the rye and honey balance perfectly with the bright, tart flavor profile of the lemon. The pear juice works to meld the flavors to each other and sooth the palate in this variation of a Gold Rush"
Purple Rain
The herbaceous flavor of gin just might be the perfect antidote to all those margaritas you've been enjoying all summer. Enter this floral cocktail from Josh Suchan, Cocktail Consultant at Mi Piace in Pasadena. "It's a pretty in purple drink designed with Empress 1908 Gin, Fever Tree Mediterranean Tonic, fresh citrus wheel, juniper berries, and lavender, making this cocktail the perfect sipper for fall," he explains. Add some edible rose petals to finish off this drink that's as easy on the eyes as it is totally refreshing for fall — no cliché fruits necessary.