Don't Forget This One Crucial Thing To Create A Party-Worthy Charcuterie Platter
Daxiao Productions/Shutterstock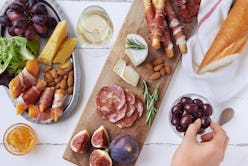 There are a few things that are absolutely crucial for a successful summer soirée. Not the least of these include strong yet tasty cocktails, a good mix of people to keep the conversation interesting, and, of course, some delicious bites. In terms of the latter, your skills in the kitchen may have been what's been holding you back from throwing a bash of your own. But thankfully one of the most coveted snacks for satisfying a group is also one of the simplest — especially if you're following the advice of some of the top chefs, caterers, and food stylists. With a few pro charcuterie plate ideas, you can create a visually appealing and completely delectable spread for your guests to graze — without having to cook a thing (if you don't want to).
Of course there are the quintessential BBQ dishes that make any summer party feel seasonal, like street-style corn on the cob or a watermelon and feta salad, but no fiesta is truly complete without a charcuterie platter, especially during months where hot and heavy dishes just feel a bit too much. Besides, there's arguably no better accompaniment to your cocktails or wines.
That said, there's certainly an art to crafting the perfect meat and cheese board — and that's what can separate you from any other hostess throwing a dinner party this summer. Luckily, by keeping a few chef-approved ideas in mind, yours can be picture perfect in no time. Plus your guests won't feel like they're missing a thing. To get yours perfected in time for your next party, just follow the advice of Ana Ortiz, chef and founder of New York's Day Into Night Catering, who recently provided the fare for the epic 40th birthday bash of Cup of Jo's Joanna Goddard. Ahead, find the essentials she always includes for a charcuterie board that your guests can't tear themselves away from.
Mix It Up
The same old salami and block cheese might do for your personal snack at home, but to truly impress your guests, Ortiz recommends thinking a little outside the box and providing a mix of both meat and cheese options. Try combining both hard and soft cheeses, and offering options from goat, sheep, and cow for different flavor profiles. Same goes for your meats. If you're not sure what to choose, ask your local butcher what he or she recommends for some great cured options and get them freshly sliced. "I like duck prosciutto, fennel saucisson, and 'nduja," she offers.
Add In Some Veggies
If you love fresh veggies, breakfast radishes make a beautiful and tasty addition to any platter. But Ortiz notes that marinated or pickled veggies — which you can source from an Italian market — will also do the trick, plus provide another layer of flavor. She suggests grabbing a jar of marinated artichokes and peppers, plus her favorite green olives. "Castelvantrano olives are the best," she says. "I've converted olive haters with these."
Your Crackers Are Key
Along with some crusty bread, like a French baguette, provide guests with a good mix of crackers as a vehicle for their meats and cheeses. "Good texture in a cracker is a plus," says Ortiz. "Raincoat Crisps are my favorite because they have a perfect texture of crispy and chewy. Mini toasts are like crunchy air in the best way, and, of course, water crackers are also a solid and classic choice."
Go Nuts
Nuts provide texture to your charcuterie plate, plus they'll keep guests feeling satiated. "Marcona almonds are the gold standard but I also love a roasted cashew particularly paired with really plump dried apricots," suggests Ortiz.
Not Everything Is Best Chilled
Ortiz notes that most cheeses are at their most flavorful when they're at about room temperature. "The number one rule is to always pull your cheese out of the refrigerator an hour before serving," she explains.
Don't Forget Something Sweet
Round out the flavors on your board with a little something sweet. "You cannot go wrong with honeycomb or quince paste which are the classics," Ortiz says. "But also consider some sort of unique jam or jelly like one made with Vin Santo or Campari."