This Unexpected Twist On A Holiday Favorite Makes The Perfect Friendsgiving Dish
zoryanchik/Shutterstock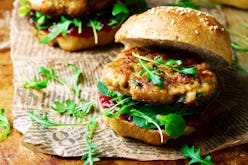 There are two kinds of families: The one you're born with, and the one you create yourself. Whether or not you're celebrating the holidays with the former, it's also a great time to recognize and show appreciation for your chosen family — one that might be made up of your close friends, neighbors, co-workers, and the like. And if you're planning a get-together for yours — or planning to attend someone else's — it might be helpful to brush up on some easy Friendsgiving dinner ideas that won't just wow the tastebuds of your loved ones, they'll show them how much you care.
There are a few things that are essential to creating the ultimate Friendsgiving — just ask Mandy Moore, who always makes sure to have a curated playlist, fresh flowers, and scented candles for her annual festivities. But no matter how great of an ambience you create, there's no substitute for a truly delicious meal. And while it can be tempting to just grab a ready-made Trader Joe's dish (like the pumpkin everything they've got right now), whipping up your own isn't as tough as it seems — especially with the help of some top chefs.
Chefs love to get creative this time of year as a way to switch up the usual roast turkey, pumpkin pie, and stuffing you're used to. And if you like to stick to the traditional stuff for Thanksgiving, Friendsgiving offers the perfect opportunity to try those kinds of twists. Ahead, find nine expert-approved, alternative — but still totally festive and seasonal — dinner ideas you can try this year as a great way to give thanks to your chosen family.
Sweet Potato & Coconut Bisque
Chef Andrew Reyes of Tidal at Paradise Point resort in San Diego puts a Thai twist on a super seasonal ingredient, sweet potatoes. Instead of using heavy cream for a bisque, he opts for coconut milk. Not only does this create a creamy texture, but also an unexpected sweetness. At his restaurant, the chef tops this soup with fried shallots and spiced pumpkin seeds for added crunch.
Turkey Bolognese
If your Friendgiving falls after Thanksgiving, chances are you might have some leftover turkey, and whipping up a lean bolognese is the perfect way to use yours up. That's what Chef Paul Gregory of Double Take in Los Angeles likes to do this time of year, and he serves his with bowtie pasta, then finishes it off with Italian parsley and parmesan cheese. He adds that you can also make your sauce super easily by using an instant pot.
Korean-Style Brussels Sprouts
"Brussels sprouts are a common Thanksgiving side, but this dish puts a completely different spin on them with the addition of gochujang, which adds a savory, sweet, and spicy kick," share Chef Macks Collins and Chef Bryan Kidwell of Piccalilli in Los Angeles. "We also add some crunch with corn nuts, an ingredient that one of your snack-inclined friends might have just lying around already."
Pumpkin Orzo
"We make a puree of pumpkin by roasting it with a little olive oil and salt and then blending in a blender until smooth," explains Chef Seadon Shouse of Halifax in Hoboken, New Jersey. "We combine orzo pasta, pumpkin puree, roasted pumpkin pieces, parmesan, mascarpone, and scallions together until thick. The end result tastes like the best mac and cheese you have ever had."
Maple Bourbon Glazed Pork Chop
"This is a version of traditional ham," says Shouse. "We put the pork chops in a bourbon brine and then roast them with a maple bourbon glaze on them. It will be like a small individual pork chop ham."
Mac & Cheese Carbonara
"I'm known in my famiglia for my carbonara, so I thought marrying [it with mac and cheese] would be a match made in heaven," says Buddy Valastro of Buddy V's Ristorante in Las Vegas. "This is exactly how I like to treat myself whenever I get the chance to!" For this creative mash-up, the chef uses smoked mozzarella and fontina cheeses, egg, pancetta, and sweet peas.
Holiday Turkey Burger
Vegas's Honey Salt offers a fun twist on the traditional turkey dinner with a festive and hearty turkey burger. This seasonal offering is made special with the addition of herby aioli, cranberry-apple chutney, and cornbread stuffing. It also happens to be a great use of all your leftovers, if you've got some to spare!
Roasted Carrots With Habanero Honey Sauce
Chef Daniel Shemtob of HATCH Yakitori & Bar in Los Angeles suggests giving a sweet and spicy kick to roasted carrots as a festive Friendsgiving side dish. He notes that charring the carrots is key here to add a smokey flavor that pairs perfectly with the honey habanero sauce.
Brussels Sprout Salad
Nicole Rucker, baker, recipe developer, and author of Dappled: Baking Recipes For Fruit Lovers offers a flavorful spin on brussels spouts for a delicious — albeit adventurous for some — addition to your holiday table. "Make a brussels sprout salad with anchovy, fish sauce, apples, sharp cheese, bread crumbs, and shallots — because your friends are cooler than your family and they won't snub the anchovies," she says.