These Incredible Destinations Are Perfect For Couples Who Need Alone Time
@gallaghers.travels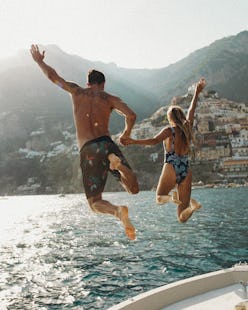 Nothing recharges a relationship like a good vacation. Stepping out of your comfort zone and exploring uncharted territory can really strengthen your bond as a couple — and makes for incredible memories. Luckily, bucket list travel ideas for couples are aplenty these days, no matter your vacation preference.
"This year has been a year for romance and discovery for couples traveling the world together," says Michael Gallagher, co-founder of online travel guide and blog Couple's Coordinates (which he started with his wife and travel buddy, Alexandra). "In 2018, we've seen a juxtaposition of the ancient and modern worlds as couples have ventured to explore the ruins of Machu Picchu, temples of Bali, and the tobacco fields of Cuba on a much more frequent basis. Destination proposals and weddings have also seen an increase in popularity in 2018."
Every duo has their respective travel style that can dictate the location and itinerary of their trip. Some couples prefer more romantic settings that allow for optimum "together" time. Some pairs are of the adrenaline-seeking vein and prefer atmospheres that will challenge and push them. And some just seek a quiet and peaceful respite away from, well, everything.
No matter your partiality, there's a picturesque destination for you and your partner. Ahead, Gallagher outlines the top trips for couples looking to hit the road. Pack your bags.
For Romance
"For couples interested in a romantic trip, book a flight to Bora Bora, the Maldives, or one of the breathtaking Greek islands. Plan a trip to Italy and explore the small towns along the coastline like Cinque Terre or the lesser known towns outside the major cities of Florence, Rome, and Milan. Maybe even spend some time laying on the beaches of Sicily or Sardinia. Indulge yourselves in an aesthetically beautiful surrounding, in each other, and perhaps in a couples spa treatment!"
For Quiet Time
"Couples who are bit more introverted might enjoy spending time in the mountains of Liechtenstein or Switzerland."
For An Adventure
"For couples seeking adventure, head to Peru and hike Machu Picchu, book a flight to Bali and hike a volcano (or ride a scooter around the island to the best surf spots). You can also visit Bora Bora and experience both romance and adventure — spend quality time together in an overwater bungalow and then head out for a day of exploring the breathtaking island, swimming with sharks, and playing with stingrays."
For Foodies
"For food-enthusiasts, head to Italy and indulge in pasta, pizza, fresh vegetables, bistecca fiorentina, and fresh fish from the Mediterranean before you top off the night with a gelato. Or plan a trip to Greece and treat yourself to a delicious Greek salad followed by octopus, olive oil, and hummus.
You can also spice things up with a holiday in Thailand and try curries and soups that will hit every taste bud in your mouth. Or vacation in France and enjoy beef bourguignon or ratatouille (but also be brave enough to try delicacies like escargot). Have a sushi date in Japan or devour some tacos in Mexico. Maybe you have a sweet tooth? Head to Belgium for the best chocolate in the world."
.