Beekeeping And Equine Therapy? This World-Famous Spa Resort Seriously Has It All
Shutterstock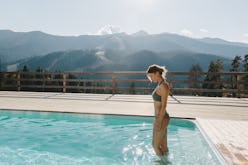 If you're currently in the throes of holiday madness, you've probably daydreamed once or twice about a relaxing, restorative getaway. Actually, for some, that's a year-round daydream. But it doesn't have to stay stuck in fantasyland. Need a jumping off point to start planning? Taking a look at some of the best spa resorts in the world might help. Think totally remote and picturesque locations, private soaking tubs, cliffside yoga sessions, and treatments that include inspiration from the local landscape and its cultural history. So basically, your dream come to life.
The new year seems an ideal time for wellness-themed vacations that pamper your outsides — with polishing body scrubs or CBD-infused facials, for example — as much as they cater to your spirit and mental wellbeing (think meditative practices, equine therapy, and more). Yes, the best spas around the world aren't just about a seriously great massage. They've got it all: epic geographical locations, healthy local fare, unique treatments for mind and body, and of course, the chance for you to totally unplug and reconnect to yourself — and whoever you let tag along.
If that wasn't enough to get your planning started, maybe this will help: ahead, find 10 spa resorts all over the globe that promise to give you a totally transformative experience — yes, including that one that the Kardashians are obsessed with.
Nihi Sumba Island — East Nusa Tenggara, Indonesia
A spa getaway in a location like Indonesia already feels like enough of an escape, but the real highlight at this resort is a spa safari, which kicks off with a 90-minute post-sunrise trek and ends with the most indulgent body treatments. Besides that, Nihi offers private cliffside rooms, yoga, paddle boarding, surfing, and horseback riding for outdoorsy types.
Two Bunch Palms — Desert Hot Springs, California
One of the biggest draws of this Desert Hot Springs resort is its location amid the area's famous healing mineral waters. But other than the various pools you can soak in here, Two Bunch Palms offers a 90-minute CBD Vibrational Facial, full-body sugar scrubs, private sound baths, tarot readings, locally grown produce in the restaurant, and clean products used in your treatments. This is a great option for those looking for a more sustainable vacation option.
Ten Thousand Waves — Santa Fe, New Mexico
Though only a quick drive from the heart of Sante Fe, this Japanese-inspired spa is just tucked away enough to feel so much more remote. Ten Thousand Waves is most famous for its communal pools and tubs, but you can also book a private suite complete with a cold plunge, sauna, and hot tub you can have all to yourself. There's also an izakaya style restaurant, limited lodging, and additional treatments including a detoxifying body wrap with herb-soaked linens and a healing shitazu foot massage.
Kamalaya — Koh Samui, Thailand
With suites and villas here that boast ocean and garden views, you already know that a stay here will be totally inspiring. Beyond the spectacular location, Kamalaya has holistic treatments that include TCM (cupping, accupressure) for stress and burnout, and detoxification, like a traditional herbal compress massage and other Ayurveda-based practices.
Amangiri — Canyon Point, Utah
This celebrity favorite, which counts the the Kardashian as devotees, has a signature minimalist design in a completely remote setting. But you're not just coming here to create great Instagram content. You can partake in outdoor activities like walks and hikes, treatments that incorporate Navajo traditions, yoga on the rocks, floatation therapy, red clay wraps, and so much more.
Miraval Resort — Tucson, Arizona
Miraval is known for its unique forms of therapy, which includes working with horses and bees, a challenge course, and aerial yoga. But don't worry, there's also stuff to soothe your physical body, including Ayurveda-inspired treatments that will leave you feeling totally rebalanced.
Mii Amo — Sedona, Arizona
With an epic view of Sedona's red rocks from your stunning casitas, Mii Amo's location is nothing short of amazing. But while you're here, you can also indulge in Native American-inspired treatments (like an anti-aging prickly pear butter wrap), new moon manifesting, and other mind-and-body treatments in the totally inspirational al fresco setting.
Aro Ha — Glenorchy, New Zealand
This is a next-level wellness retreat. Set among New Zealand's Southern Alps, the minimal-yet-luxurious resort offers hydrotherapy, earth-friendly treatments, practices that enhance your body and mind connection (think yoga sessions with an unbeatable ocean view), and healthy meals. And to fully soak up the Aro Ha experience, you're encouraged to detox from your digital devices while you're here.
Ojo Caliente — Ojo Caliente, New Mexico
The sister to equally gorgeous and pampering Sunrise Springs in Santa Fe, Ojo Caliente is a touch more rustic, with modern Pueblo style suites and revamped vintage trailers to stay in while you're here. It's also one of the oldest natural health resorts, with sulfur-free mineral waters, 12 different pools (lithia, iron, soda, and arsenic springs), hiking, biking, yoga, birding (exactly what it sounds like), plus therapeutic massages and nourishing skincare treatments.
Cala De Mar — Ixtapa, Mexico
There's not a bad room here at this five-star resort in southern Mexico (they've all got ocean views and your own private plunge pool). Its cliffside location means whale watching and outdoor yoga are signature practices here, but Cala De Mar also boasts an authentic temazcal (sweat lodge) and other Aztec healing traditions, like a floral foot bath and Lemongrass & Toronjil body wrap.