Book A Ticket To This City Now If Your Vacations Always Revolve Around Food
RossHelen/Shutterstock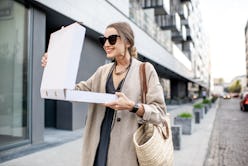 Around this time of year, many people are plotting their next escape, be it a tropical spot where they can forget about the frozen tundra back at home or a cozy cabin where they can embrace the winter weather at its peak. But besides disconnecting from your usual routine, there's another major thing to look forward to on vacation, and that's what you're going to eat. Part of exploring a new place is indulging in its culinary scene. Sound like your idea of a good time? Consider a visit to some of the best US cities for foodies for your next getaway.
The term "foodies" doesn't only apply to the folks who are fortunate enough to dine in best restaurants in the world or even those who are up on the latest food trends (though that's often the case). For some, being passionate about food means scoping out the street food scene, finding the hidden gems, or even perusing local markets to see the difference in produce.
No matter what type of diner you are, the 10 cities listed ahead ought to have what exactly what looking for. Top-tier vegetarian and vegan restaurants? Totally. Trademark dishes that are worth the hype? Absolutely. Read on to see where you should plan to go next for seriously good eating — plus a few foods you should definitely try while you're there.
New Orleans, LA
It's tough to imagine a visit to this Southern city without making a stop by the iconic Cafe Du Monde, where you can sip chicory coffee and nibble on beignets in a Parisian-style, open air setting. But besides that, there's a wealth of creole food to sample here (jambalaya, crawfish étouffée) — whether you find it at a hole-in-the-wall joint or a fine dining establishment like Commander's Palace or Compère Lapin, where they put a sophisticated spin on traditional fare.
New York, NY
Of course there are the notorious thin, floppy slices of pizza that are not to be missed while you're in NYC, but don't sleep on the Jewish delis for a bagel and smear, pastrami on rye, or matzo ball soup, or Chinatown for bao, dumplings, and noodle dishes. The list of modern dining spots here is growing every day, but a few standouts include Le Bernardin, Per Se, or Momofuko Ko.
Miami, FL
In Miami the warm climate allows for a ton of fresh, flavorful produce, and the health-conscious city also offers a ton of clean eating options. But one of the things that makes the city so unique is the Cuban influence, which can be seen in the cuisine around town. For arguably the best in the area, head to Versailles for stuffed plantains, empanadas, yuca fries, and, obviously, a Cuban sandwich.
Savannah, GA
Whether you're eating at a classic eatery here (like Mrs. Wilkes Dining Room) or a more contemporary one (like Husk or The Grey), it's all about the Southern food in this town. Think shrimp and grits, fried green tomatoes, and pretty much anything with peaches when the stone fruit is in season.
San Francisco, CA
One of the reasons that the Bay Area city is such a standout for food is that it's such a cultural melting pot. Craving Mexican? San Francisco is known for its Mission-style burritos. Chinese? Dim sum in Chinatown is not to be missed. And with its close proximity to the ocean, you'll want to grab some fresh seafood while you're here. Oh, and then you can always finish off your meal by making a stop at any of the well-known chocolatiers (Ghiradelli, Dandelion, and Recchuiti to name only a few).
Charleston, SC
Sure there are modern standouts like Husk and Chez Nous, but if you've never sampled lowcountry cuisine (like a seafood boil) before, make sure you make a point of it while you're in town. Pretty much any southern or seafood dish is worth trying here.
Chicago, IL
Absolutely try the deep pizza and Chicago-style hot dogs (with mustard, relish, pickles, onions, and tomatoes on a poppy seed bun) when you're in the Windy City. But aside from those staples, the city has a fierce culinary scene, with Alinea, Blackbird, Girl & The Goat, and Spiaggia as just a few of the seriously epic ones to check out — that is if you can score a table.
Seattle, WA
Considering this is where the iconic Pike Place Market can be found, a visit to Seattle simply isn't complete without some freshly shucked oysters and other impossibly fresh seafood dishes. The seafood scene in the city is rivaled only by the coffee scene. Yes, this is the birthplace of Starbucks, but while you're in town, check out a few other roasters like Elm Coffee and Victrola. Besides that, the Vietnamese food is particularly good, so grab a bowl of pho from Ba Bar or Pho Bac.
Nashville, TN
Nashville hot chicken is pretty much everywhere these days, but this southern city is still serving it best — and Hattie B's is the best known spot for that dish. But barbecue and southern food of all kinds also hails supreme here. Get the beloved biscuits from Biscuit Love, then head to Jack's Bar-B-Que for smoked brisket. If you're looking for something a little more upscale and contemporary, book a table at Rolf and Daughters or Bastion.
Las Vegas, NV
Las Vegas is all about excess, so it's no surprise that the the hotels here offer some of the best buffets in the world. Head to the Wynn, the Cosmopolitan, or the Bellagio if you want to see how many different types of food you can try in one sitting, or stop by some of the city's most nostalgic eateries, like the Peppermill, Battista's Hole In the Wall, or Chicago Joe's. For something a bit more modern, try Joël Robuchon or Le Cirque. Also worth mentioning, Le Thai is something of a landmark if you're craving curry.