This Up-And-Coming Model Just Might Be The Next Bella Hadid
Mike Coppola/Getty Images Entertainment/Getty Images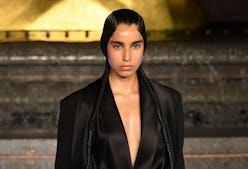 The moments Cara Delevingne walked down her first Burberry runway in 2011, or Jourdan Dunn was introduced at Ralph Lauren in 2007, or Gigi Hadid debuted at Desigual in 2014, are only memorable in hindsight. At the time, no one realized these newcomers were the future — except for the forward-thinking agents who signed them and designers who hired them. It's impossible to predict who will be 2019's models to watch (although I feel like Rick Owens probably has some sort of mystical crystal ball in his possession, right?), but I'd place my bets on these eight up-and-coming models: Alva, Anna Herrera, Anisha Sandhu, Hannah Sprehe, Nuri Son, Liu Huan, Holly Magson, and Chunjie Liu.
What makes one a "model to watch" in 2019? Of course, there are the usual prerequisites: These ladies have beauty, talent, and style in spades. (And great brows. So many great brows.) But as the changing culture of fashion proves, these days, it's about more than just a pretty face. "Fashion week, for me, should always be about using such a powerful platform to spread beautiful ideas," Anna Herrera, a model you might recognize from the Saint Laurent runway, tells The Zoe Report. "I've been pretty curious to see how the fashion industry is transitioning to be more sustainable and inclusive considering everything that is happening in our world right now."
Ahead, meet the eight diverse, hard-working, game-changing models poised to take over Fashion Month.
Anna Herrera
Agency: Supreme Management
Age: 25
Country: Brazil
Has Appeared At: Saint Laurent
Why She's One To Watch: Even though Herrera's mother always wanted her to model, she resisted until she was scouted by an agency in her native Brazil. She's since appeared on the cover of Harper's Bazaar Brazil and in Calvin Klein ads, and even opened Saint Laurent in Paris last season. "The adrenaline and excitement of being the one in charge to open a show that has been worked on for many, many long days and nights, with such a big production, in an incredible location, was breathtaking," she says. Keep an eye out for her signature shaggy pixie at the SS20 shows.
Anisha Sandhu
Agency: The Society
Age: 22
Country: Canada
Has Appeared At: Alexander Wang
Why She's One To Watch: When Anisha Sandhu, a Punjabi model from Canada, walked into her first casting with an agency, they signed her on the spot — and obviously, designer Alexander Wang saw the same potential in her. "Walking in the Alexander Wang show this past summer was a career highlight for me, since it was my first ever show in New York," Sandhu says. "Also, [him] being my first designer to walk for is particularly special to me since I've been a fan of his since I was 14 and begged my parents for a knockoff Rocco bag for my birthday." Knockoffs are a thing of the past for Sandhu, though: This upcoming Fashion Month is her first full season of shows; after which, she'll have solidified herself as the real deal.
Hannah Sprehe
Agency: The Society
Age: 18
Country: Germany
Has Appeared At: Louis Vuitton, Chanel
Why She's One To Watch: Hannah Sprehe's origin story is pretty much the typical model fairytale: She was scouted while shopping at the mall with her mom at 15. In the three short years since, she's walked shows for Dior, Versace, Louis Vuitton, and Chanel. "Chanel was especially nice, because the Cruise show was in Hamburg last year, and Hamburg is my hometown," Sprehe tells TZR. "Additionally, I got to be part of the last Chanel show where Karl Lagerfeld was present." This season, the German model is heading to New York Fashion Week for the first time. "I can't wait to see all my friends who I haven't seen in a long time again," Sprehe says. "And of course, be able to see all the inspiring designers."
Nuri Son
Agency: Wilhelmina
Age: 23
Country: South Korea
Has Appeared At: Dolce & Gabbana
Why She's One To Watch: Nuri Son decided to try modeling on a whim after hearing about auditions for Korea's Next Top Model. Though she wasn't cast, her interest was piqued. "I went to a modeling academy and I worked as a model in Korea for a year," Son tells The Zoe Report. From there, she took a chance and traveled to Europe to find work with major designers. "When I was in Milan, Dolce & Gabbana was one of my favorite designers and I really wanted to walk the runway for D&G," she says. "Finally, I got the opportunity to shoot the campaign and walk the show." What's next for the model? NYFW, naturally. "Finally I [made it to] New York, which was my big dream," she says. "I look forward to walking for more top designers."
Alva
Agency: Wilhelmina
Age: 27
Country: United States
Has Appeared At: Mara Hoffman
Why She's One To Watch: For starters, she's got the one-name thing going on: Alva. Also, Rihanna loves her. "My career highlight was shooting for Savage Fenty by Rihanna," the model tells TZR. "I love how powerful I feel when I shoot for Fenty and what the brand represents. It's so exciting to be part of this movement in fashion." Alva, originally from London, has lived in New York City for a year now — so be on the lookout during NYFW. "I'm looking forward to being a part of a more inclusive and diverse show season," she says.
Liu Huan
Agency: Supreme Management
Age: 19
Country: China
Has Appeared At: Balmain, Hermes
Why She's One To Watch: During college, Lui Huan realized she wanted to model — so she entered and won a modeling competition, as one does. The judges were onto something: Once Huan started working, the jobs just kept coming. "After my first Fashion Week, I photographed the cover of BAZAAR," the Chinese model tells The Zoe Report. Besides a strong runway presence — last Spring, she walked for Balmain, Loewe, Hermes, and more — Huan is quickly becoming known for her casual street style. (Typical outfit: Black leather bomber jacket, matching combat boots, pops of neon.) This season, she's set to make a statement both on and off the runway.
Holly Magson
Agency: The Society
Age: 19
Country: Australia
Has Appeared At: Louis Vuitton
Why She's One To Watch: Holly Magson was scouted at the beach in Australia at 15 and has been modeling ever since. "I used to be very shy, but all the traveling and meeting people has given me so much more confidence," she tells The Zoe Report. That confidence earned her a spot in the Louis Vuitton 2020 cruise show, and this season she's ready to chase that feeling again. "The whole atmosphere around fashion week is crazy and exhilarating," she says. "It's a really great feeling if you book a big show, especially after working so hard for it."
Chunjie Liu
Agency: Supreme Management
Age: 24
Country: China
Has Appeared At: Alexander McQueen
Why She's One To Watch: Chunjie Liu's entry into modeling was a mixture of luck (she won a modeling competition in her native China) and hard work (she hustled for bookings). "I think my career highlight is getting the Alexander McQueen campaign, because it was the first time they used an Asian model," Liu tells TZR. So, what boundaries will she dare to break next? "I just hope this Fashion Month, I don't get sick!" she jokes. Ah, the pitfalls of being an in-demand model.