Rihanna Dropped The First Glimpse At Her Upcoming Fashion Line — Here's What We're Eyeing
Courtesy of Fenty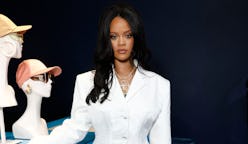 The wait is finally over. After shaking up the cosmetics sphere with groundbreaking makeup brand, Fenty Beauty, reports surfaced in Jan. that Rihanna's next undertaking would be in the realm of fashion. Much to the satisfaction of style devotees and the singer's dedicated fan base, the complete offerings of Rihanna's Fenty fashion lookbook have been released, a few days ahead of the official launch on May 29.
Throughout her illustrious career, the world has become accustomed to the singer's ability to pull off trend-forward streetwear, then switch it up and stun in a 16-foot couture train. The first collection for her LVMH namesake brand, titled Release 5-19, embodies that inimitable versatility, a masterful collision of contrasting aesthetics.
Featuring voluminous puff sleeves offset by Japanese denim akin to the dark-wash, stitched styles worn by hip hop icons in the late '90s and early aughts, the collection really is the best of both worlds. Juxtaposing smooth, feminine lines with structural silhouettes, Fenty captures the multifaceted spirit of the modern woman.
"It's about creating a style for women that makes them feel strong yet beautiful," Rihanna told T Magazine at the pop-up preview in Paris.
Capturing Rihanna's refined yet daring sensibilities, power shoulders lend major boss-appeal, while sleek trousers bring a modern sophistication, accented by meticulously crafted curvature made to accentuate the female form.
"This one made me look the most snatched in my waist, and made my butt look the biggest. It literally came down to that," the designer told Vogue of a form-fitting blazer dress. If nothing else, clothing should make you feel the absolute best in your skin, self-assured at the office, and fit for world domination, à la Rih.
Nearly fifteen years after emerging on the music scene with "Pon de Replay" at just 17 years old, the nine-time Grammy Award-winning artist is proving what we already knew: There's nothing Rihanna can't do. After all, the singer has even made a case for borrowed wine glasses as a functional accessory, and as a wise Twitter user once said, "It's ugly until Rihanna decides it's not."
The collection will be available to shop on FENTY.com on May 29. Until then, take a peek at the looks we have our eyes on.