Chanel's Fall 2019 Show Was An Emotional Farewell To Karl Lagerfeld
David Fisher/Shutterstock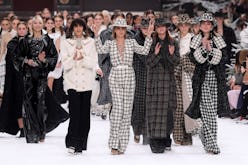 Chanel is inarguably the buzziest show of the entire Fashion Month circuit: It's not only the first show on the final day of Paris Fashion Week — closing out the six-week marathon that starts with Couture in January — but it's always home to one of the most imaginative and well-documented sets of the season. Both of those sentiments were doubly true for Chanel's Fall/Winter 2019 collection, after creative director and visionary Karl Lagerfeld died on Feb. 19, just a few weeks shy of the March 5 show, leaving many fans and show-goers to wonder what might come of Chanel without him.
This season, it all started with the invitations, which featured a watercolor illustration of two ice-like interlocking Cs falling down the card stock like suspended snowflakes. A single hashtag, #CHANELintheSnow, adorned the opening page, giving a hint of what was to come. And what do you know: After taking us to the beach for Spring/Summer 2019, Chanel transformed the historic Grand Palais into a snowy dreamland, complete with six-foot snowdrifts with shuttered cabins perched atop each, and a ski lodge, er, the Chalet Gardenia, where models would emerge to take the snow-filled runway. But not before a tribute to Karl.
The mood in the Palais was uncertain — both somber and wistful at once. The notoriously hard-working designer didn't want a public funeral or memorial, but the house announced a minute of silence in commemoration before the start of the show. Then, some wind chimes — and Karl's voice. "It's like walking in a painting," he said gleefully in the recording, before a more dream-like soundtrack took over. Smiles filled the crowd almost involuntarily as Cara Delevingne, a longtime friend of Karl and the house, opened the show in a black-and-white tweed jumpsuit layered underneath a similarly neutral houndstooth coat, diverging from the brand's usual tweed skirt suit opener.
Later, Delevingne would lead the powerful finale with fellow models Mica Argañaraz, Mariacarla Boscono, and Cat McNeil — the latter of whom who wiped away tears as David Bowie's 'Heroes' played through the loudspeakers to a standing ovation lead by Anna Wintour herself. (That was the same track that played at Lagerfeld's last Fendi show in Milan on Feb. 21.)
A series of perfectly tailored tweed, houndstooth, and plaid separates — including wide-leg pants, oversized fur-lined coats, and Fair Isle sweaters — in varying neutral hues gave way to a more optimistic palette. Around the halfway mark, a cardinal red coat-and-jacket appeared, and later, a striking all-pink look, complete with the same oversized leather pants that would also be smartly paired with a chevron tweed blazer. A series of pink and purple puffers were unexpected but welcomed.
Other standout pieces to make their way down the snowy runway included a sheer chiffon button-down in black, worn atop a white button-down in crisp poplin, a white crystal-trim trench with cream-colored wool lapels, and a glistening black wool cape that dragged in the snow as the model walked. A pair of black-and-tan tweed capris with a frayed hem are sure to sell out if they go into commercial production.
Penelope Cruz, the current face of the brand, surprised guests as she walked just before Kaia Gerber in a confectionary mini dress, carrying a single rose in lieu of a bag. The collection was just as playful and clever as you'd expect from Karl.
Of course, the second most-anticipated moment of the show proved to be the gesture we didn't know we wanted: Though Virginie Viard, Lagerfeld's right hand and director of Chanel's fashion creation studio, took a bow at Couture as directed by Lagerfeld himself, she stayed backstage in a moment of reverence, leaving Karl's absence that much more present.
And lastly, Chanel commemorated Lagerfeld with a sketch of he and Coco Chanel together, which was hand-drawn by Lagerfeld himself and left in the show notes folder. Alongside the illustration were the words, "The beat goes on..." Indeed.