The Only Looks From Copenhagen Fashion Week That Matter
Courtesy of Cecilie Bahnsen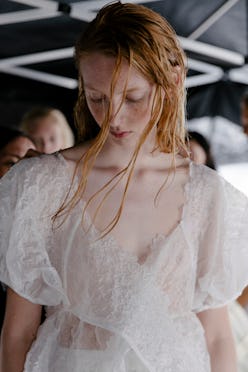 Copenhagen Fashion Week isn't exactly like all the other fashion weeks: There's no months-long preparation for editors, no public events with lines around the block, and certainly none of the fanfare that comes along with, say, New York or Paris. You might not have even seen the three-day-long affair coming until it hit your Instagram feed, and that's okay. But to say you didn't miss much would be a lie: CFW is on its way to becoming one of the most influential weeks in the fashion world. The best, must-see looks from Copenhagen Fashion Week — from up-and-coming labels like Cecilie Bahnsen, Ganni, and Stine Goya — can give you a tiny glimpse into why it's one to watch.
Even if you experienced a small taste of Copenhagen on the 'gram, you likely didn't have time to keep up with the 40-plus shows and presentations. You're busy; we get that, so think of the below as the Cliffs Notes version of Copenhagen Fashion Week, featuring brands you've definitely heard of, and a few brands you haven't yet. You'll find one look from each of this season's shows that wowed us the most, including one majorly unexpected look from a cult-favorite brand that you should definitely know about.
Brøgger
Brogger's eponymous designer says she's not interested in creating unisex clothing, but rather, creating clothing that tests the boundaries of gender as they exist. This look, which features a pink blazer and trousers layered with an asymmetrical midi-dress, feels like the 2020 equivalent of a power suit.
Mykke Hofmann
Design duo Sedina "Mykke" Halilovic and Jelena Hofmann are known for creating flowing, ultra-feminine pieces. This orange-red look — also an interesting take on monochrome — certainly qualifies.
Rodebjer
Rodebjer (pronounced Rode-a-beer) has become a household name for fashion folk around the world, and it only makes sense that the brand, designed by native Swede Carin Rodebjer, shows during Scandinavia's now-biggest showcase. Some may say look 6, an orange dress with a fringe cut-out was the look to know, but we think this oversized reversible leather jacket is most divine.
Holzweiler
Somehow, the designers at Holzweiler manage to make every of-the-moment trend feel eternally relevant. Case in point: This look, which combines bike shorts, colored socks, chunky shoes, and a half-open button-down shirt.
Munthe
Denmark-based brand MUNTHE reads like Ganni's trend-heavy sister. This all-brown suit — interjected with an oversized caftan instead of the usual button-down — is nothing short of perfection.
Cecilie Bahnsen
Sure, we could show you one of the Christening gowns that Cecilie Bahnsen's known for, but the brand's first take on suiting for Spring/Summer 2020 was the real reason to write home.
Samsøe Samsøe
This Copenhagen-based label is launching in the US later this year (and is making a convincing case for a scarf as the ideal backdrop for your belt bag).
By Malene Birger
Danish designer Mathilde Torp Mader knows exactly how to play to her strengths. This season, she brought us the same effortless luxury that is signature to the brand, but made it just a touch more relaxed.
Stand
Swedish label Stand has made a home for itself during CFW, and this season, the brand embraced the idea of being, well, extra. And while there were a few all-black leather getups, this pattern-on-pattern-on-pattern suit is no exception to the rule.
Baum und Pferdgarten
Designers Rikke Baumgarten and Helle Hestehave know a thing or two about flowy separates. This season, the design duo took inspiration from the dance world. Unsurprisingly, the resulting collection featured key pieces that looked best in motion.
Stine Goya
Forever the queen of color, designer Stine Goya went the non-traditional route for her casting, sourcing her models from both the ballroom dancer community from which she found inspiration, as well as in partnership with the app Bumble. The resulting show was just as joyful and poppy as the clothing itself.
Ganni
Ganni couldn't possibly have timed its 10-year-anniversary show better. While a thunderstorm loomed, the brand sent out looks that recalled a few favorite hits (floral dresses, faux-leather separates, draped square-neck tops) to a live performance by Danish pop star MØ. Then, just as she broke out into her hit "Lean On," the weather gods gave us what we asked for: a downpour of a finale. This look, a trend-forward trio of separates, is also what we were asking for. We just don't know it yet.
Saks Potts
Saks Potts' Cathrine Saks and Barbara Potts also know how to put on a show. For the label's twelfth season, the designers ushered editors, influencers, and buyers into the Royal Danish Academy of Music for a philharmonic experience. For spring, the duo moved away from their signature fur, although not entirely, and presented a playful, flamenco-inspired collection of flowy, salsa-ready separates. A real stand-out, of course, were the SP-emblazoned boots in the logo that put the brand on the map.