This Alexander McQueen Purse Is The Luxe Take On The Mini-Bag Trend You Didn't Know You Needed
Alexander McQueen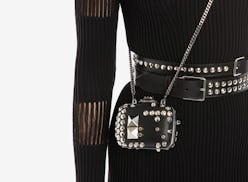 As far as the nearly ubiquitous mini bag trend goes, most people would probably use a single word to describe it: cute. The itty-bitty handbags are, in fact, adorable and add a dose of whimsy to any look, more than making up for what they lack in actual storage space for your essentials. But if sweet isn't exactly your style, it's safe to say you've probably stayed away from the mini-purse mania. That's about to change, because Alexander McQueen's Autumn/Winter '19 accessories collection presents a very edgy (not to mention very luxe) take on the tiny purse trend — plus a whole lot more punk rock-inspired pieces to add sophisticated edge to your entire wardrobe.
The house of Alexander McQueen exists at the intersection of unconventional elegance and thoughtfully executed edge. Each piece the label offers exhibits impeccable attention to detail, plus unexpected touches that help them stand out in a sea of sameness. So when it decided to take on the mini purse trend for the Autumn/Winter 2019 season of its accessories drop, you know that you can expect a complete departure for the style that's become synonymous with all things sweet.
The latest take on the mini-purse trend showcases quintessential Alexander McQueen style. The clutch silhouette, which comes in leather and etched brass iterations, features luxe vintage-inspired details like burnished leather, antiqued metal hardware, and sparkling Swarovski crystals at the closure. The dark gray leather style, $2,190, presents a super-streamlined version that still packs tons of interest to upgrade simple evening looks, while the silver finish etched brass clutch, $1,450, amps up the mini-purse style to a totally new level that's ideal for anything from attending a rock concert to an upscale event. To really go all-out, invest in the black leather stud-adorned style, $2,390, a bold take on the trend that could be described as anything but cute.
As for the rest of the autumn and winter accessories, Alexander McQueen stayed on theme with lots of punk-inspired elements — aka a whole lot more studs. These knee-high polished leather boots, $1,490, feature a dashing of faceted studs around the base of each shoe, while the collection's heeled ankle biker boot silhouette, $1,490, is absolutely covered in the cool metal detailing. If you can't get enough of the antiqued brass and oversized crystals, go in on the Mechanical Jeweled Satched, $2,490, which features a crystal-encrusted four-ring handle for total wow-factor.
Finally convinced that the mini-bag trend can work for you? Keep scrolling to shop Alexander McQueen's very cool take on the style and stock up on more edgy fall accessories while you're at it.