"Chocolate Cake" Hair Is Trending For Spring 2019 — & So Are These 6 Colors
Imaxtree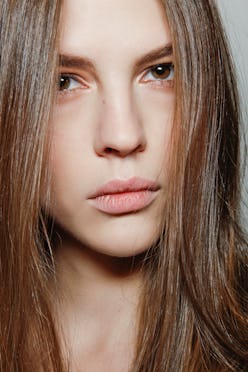 These days, there are hardly any fashion "rules" to follow — stylish women tend to be rule-breakers, anyway. But there are some universal truths that continue hold weight season after season, one of them being: As the weather warms up, so should your hair. According to experts, spring 2019 hair color is all about warmth, from natural brunette tones (including the deliciously-named "chocolate cake" trend) to brighter color choices, like ginger and rose.
"In general, people like seeing warm, bright, and light colors [for spring]," Stephanie Brown, a Master Colorist at IGK Hair in New York City who works with Kate McKinnon, tells The Zoe Report. For her clients, this translates to what she calls "sunlight blonde" — a trend that works at the other end of the color spectrum, too. "Sunlight tones are on the warmer side," Nikki Lee, a celebrity colorist, tells TZR. "I like to think of them as rays of sunshine bursting throughout the hair." She recently gave Lea Michele a few face-framing highlights for a "sunlight brunette" color that feels fresh (but requires practically zero upkeep).
Golden rays aren't the only sun-inspired tones taking over, though; sunset shades are also on the rise. "I've been getting a lot of requests for soft, multi-tonal pinks," Jaxcee, the color director at Hair Rules in New York City, tells The Zoe Report. "It's a more dimensional version of the usual pastel colors that are always so popular this time of year."
Ahead, seven ways to warm up your look for spring — whether you're looking to go blonde, brunette, or bold.
Natural With A Twist
"People are going 'natural with a twist,'" Christina Morales, a colorist at Chicago's RMCM salon who works with Giuliana Rancic, tells The Zoe Report. "If dark is your natural color, rock it and ditch the full highlights for a few sun-kissed, face-framing hints of color." She notes she's getting fewer requests for platinum tones — which is smart as summer approaches. "Summer sun, salt, and chlorine not only ruin color, they're the perfect recipe for damaged, broken strands," she says. "Strategically placed hints of brightness will give you the drama without the trauma."
Amped-Up Ginger
"Amped-up ginger is super popular right now," Daniel Moon, the owner of HAIR Salon in Los Angeles, tells TZR. "It looks great on a ton of skin tones — it can go many ways, and it doesn't fade as fast as natural ginger colors."
Chocolate Cake
"Chocolate cake is a rich and shiny brunette that we're seeing more and more this spring — think like a very decadent cake," Brown says. "It has some golden undertones to compliment most skin tones. The rich and golden hues look especially great under the warm sun."
Rose Gold... Again
"For spring, we're seeing rose gold hair stay strong — but going lighter and brighter," Moon says. "Paired with a pixie cut, it's playful yet very feminine."
Sunlight Blonde
If you've been following Hilary Duff's color transformation, you probably noticed she's traded in her platinum hair for something a little more wearable. "Winter white was a cool, icy blonde," Lee, Duff's colorist, tells The Zoe Report. "But sunlight blonde has a warm, rooted base with highlights throughout. It's perfect for spring and summer because it's effortless and free — it's also a low-maintenance color, which is easier to deal with while on vacation."
Sunlight Brunette
All it takes is a few golden highlights to transition brunette locks from winter to spring — think Lea Michele's recent update. "I went off of how Lea's hair naturally lifted on her honeymoon," Lee says. "It's the ultimate warm weather color. The combination of the dark and light goes great with a tan."
Rose Quartz
Want to make a bold color choice look a little more earthy? "Think crystal colors, like rose quartz," Jaxcee tells TZR. This color trend blends pastel pink with lighter, blonder pieces for a look that's soft and multi-tonal. Besides the aesthetic appeal, "any crystal fan will tell you that rose quartz is all about opening your heart chakra to bring in romance and positivity, which is a very spring-like vibe," the colorist says.