The Top Fall Hair Colors People Are Asking For All Over The Country
Christian Vierig/Getty Images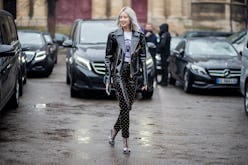 Maybe it's because Daylight Saving Time is eminent (two more months, FYI), or because the sun is quite literally setting on summer, but fall hair colors always lean toward dark — and a tad bit gloomy. But according to hairstylists at top salons around the country, clients are combatting the seasonal blues by requesting a variety of innovative hues that are reminiscent of happier — and brighter — times.
I'm talking Jem and the Holograms purple and traffic cone green, people.
"Adding a pop of fashionable color to your current look could be the fun change that you need," Josie Dicarlo and Erin Porsia, owners of Barnet Fair salon in Philadelphia, Pa. tell TZR.
If you're curious about color but not ready to take the plunge, fear not: Stylists are breaking up the monotony with strategically-placed streaks and bursts of color. And yes, of course, plenty of people are still going dark for the days ahead, too, adding a subtle shift with the help of glosses, toners, and the placement of lighter strands. Intrigued? Read on to see the most popular requests across the country, and for inspo images to bring to your next color appointment.
Gemstone Tones; New York City
"Now more than ever, clients are asking for fun and otherworldly hair trends. I feel like it's a mini form of rebellion," Jaxcee of Hair Rules salon in New York City says.
"Crystals are giving people major color inspiration right now," she continues. "I recently gave a client amethyst-colored hair."
"I'm also seeing lots of cool ash blonde or silvery bases with chunks of vibrant colors, like Tessa Thompson's character in Sorry To Bother You," Jaxcee adds.
Monochrome (But Multidimensional); DC, Los Angeles, and Atlanta
"In D.C., guests are requesting monochrome," Brandon Hankey, a hair stylist and color expert based out of the KARMA by Erwin Gomez salon Potomac, M.D. (which is just 30 minutes outside of D.C.) says. "It incorporates multiple shades of the same color to create an overall multidimensional palette, which is flattering on a variety of skin tones and textures."
Jacob Schwartz of Los Angeles' Meche Salon is also seeing the same pattern on the west coast. "[Women] who have been bleaching all their hair in the summer now want to go back to their 'roots,'" he says. "There's an uptick of natural-looking highlights with just a few lighter pieces on the ends." He's not getting too many requests for ombré anymore.
To get the monochrome with light highlights trend, try asking for softer babylights to mimic the sunlight hitting the crown of your head, suggests Jenn Jones of Atlanta's Creature Studio, and be prepared to go old school with your technique. "You'll have to trade in your paddle and plastic wrap for your tried-and-true foil," she says. "I like to do four to six thinly sliced foils pretty close together around the front hairline. Once finished and styled, you're left with a beautiful blended shadow at the top of the head that marries seamlessly to the previously lightened hair."
Iridescent Elegance; Philadelphia
"Right now, we're loving shiny pastel tones that can range from an opal blonde to a rich rose-enhanced copper," says Dicarlo of Barnet Fair salon in Philly. "These colors tend to be super shiny and very dimensional in different lighting. And sometimes for a fall transition, we will add a deeper root or shadow root."
Dust Or Bust; Los Angeles, New York City, Miami
"Dusty tones are going to be the biggest trend in the fall," George Papanikolas, the Matrix professional hair care celebrity colorist based out of Andy Lecompte Salon in Los Angeles and Rita Hazan salon in New York and Miami says. "The hair has dimension, but with soft, muted tones — like dusty rose gold, dusty mauve, dusty bronze, and dusty gold. This color is [a perfect way] to soften over-highlighted summer hair in transition into fall. And the look is so easy to achieve over sun-bleached hair with a semi-permanent or demi-permanent glaze."
Neon Brights, Los Angeles
Maybe you're only used to seeing neon hair on festival grounds, but allow Hollywood to make its case. "Powerful pops are cool and graphic," says Color Wow ambassador Chris Appleton, who's also Kim Kardashian's L.A.-based hairstylist. "It's fresh, fun, and strong. It's sophisticated, but sexy." Need further proof? Appleton tried the trend on his client, above, and SZA slipped a lime green wig on after the VMAs a few weeks ago. Lastly, Nicki Minaj, who's never a stranger to color, wore three bright hues at once last week. However, if you're not ready to go all the way, Appleton says that there are ways to ease into that space: "Do odd bits and accents, like hair tips or bangs," he suggests. "It's very modern and chic, and shows a fresh level of fierceness and confidence."