Rose Gold Hair Is 2018's Coolest Summer Beauty Trend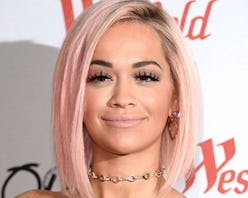 Move over millennial pink: There's a new pastel hair trend in town, and it's already inundated everything from our Pinterest boards to our Instagram feeds and daydreams. If you haven't already ventured a guess, we're talking about the rose-gold hair trend that everyone—including the TZR team—is currently obsessed with. And sure, we know that the pink-ish metallic hue has already enjoyed some time in the sun in the form of eyeshadow palettes, jewelry, and the iPhone, but now, rose gold is having a moment as the hair color du jour. At once alluring and stylish, the shimmery tone is officially the hair color of choice according to some of our favorite celebs. Hair chameleon Lucy Hale, for instance, is the most recent champion of the look; the 29-year-old actress took to Instagram earlier this year to show off her pink-toned lob, which she styled in soft waves. Other A-listers like Hilary Duff, Hailey Baldwin, and Rita Ora have also experimented with the gorgeous hue in the recent past, solidifying its trend status.
So how do you make rose gold hair work for you? The beauty of this look is that the shade can easily shift lighter or deeper, depending on your preference. "It's definitely one for beginners dipping their toes in fun color," says Lucille Javier, a hair colorist at Sally Hershberger Downtown in New York City. "It's not too saturated in tone to feel aggressive. If it's done subtly, it almost can be undetectable."
Stephanie Brown, a colorist at NYC's Nunzio Saviano salon who counts multiple TZR editors as clients, agrees: She says rose gold hair encompasses a spectrum of hues, the same way that "blonde" hair can mean both "ash" or "buttery" depending on the person. "Everyone has their own version of rose gold," she says. "It can be a golden pink or more of a pale softer pink."
Though an all-over transformation would be easier for blondes (Brown says it could take anywhere from 10-30 minutes, depending on the end goal), brunettes can get in on the action, too: Your colorist will have to bleach your hair first, Brown confirms, so make sure you talk to them to see how much time you'll have to carve out.
And while those with a more devil-may-care approach can opt an all-over effect for high summer, even commitment-phobes can try something as subtle as face-framing rose gold highlights, or a full temporary dye job. Hairstylist Kristin Ess (she's responsible for Hale's hair, and also counts celebs like Lauren Conrad and Jenna Dewan as clients) debuted a temporary rose gold hair tint as part of her eponymous haircare line earlier this year, and Manic Panic has a Cotton Candy Pink hue on shelves for those ready to go the DIY route.
Either way, as with all hair color maintenance, Brown cautions against washing your hair every day or too much sun exposure, as it can strip you of your color. For permanent color, overtone conditioners to preserve the color at home.
Ready to turn your inspo board into a reality? Click through for some stunning rose gold hair inspiration.
Margaret Zhang
Pulp Riot Hair
Thomas Goh
Nyane
Elle Fanning
Cyndi Ramirez-Fulton
Aixa Jahara
Guy Tang
Christina Oesterhaus
Lucy Hale