Priyanka Chopra Debuted A Bold New Hair Color For 2019
Jared Siskin/Getty Images Entertainment/Getty Images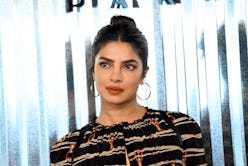 In the spirit of the viral 10-year challenge, celebrities have taken to social media to showcase just how much their looks have changed over the last decade. On Sat., Priyanka Chopra joined the conversation with an elegant approach to the challenge. Alongside a touching caption, the newlywed debuted one of her boldest hair changes yet. Priyanka Chopra's blonde highlights are a subtle yet eye-catching hue that may very well inspire you to add some contrast to your own hair.
While some big names used the social media trend to poke fun at their past style mistakes, Chopra went a different route by using it as an opportunity to show off a bold new hair color. The actor has been known to experiment with varying lengths over the past year, trying everything from a textured, choppy lob to pin-straight, waist-length extensions. Until recently, she tended to keep her color dark, rich, and natural-looking, incorporating soft, copper-toned highlights. Unlike her previous, barely-there color enhancements, her bright, golden streaks made a more prominent statement.
Chopra's undone curls effectively showed off her well-blended highlights that started off subdued at the root and got more pigmented toward the ends. This ombré look is an easy, low-risk way to integrate blonde into even the darkest natural tone.
Although it's possible that her latest trip to the salon means she's gearing up for a new role, it's more likely that the 36-year-old wanted to freshen up her winter style with something unexpected. In fact, plenty of celebrities have decided to go against traditional winter color trends and chose a lighter shade for the colder months. Lucy Hale showed off a blonde color in Nov., Miranda Kerr tested out new highlights, and Hailey Baldwin stunned fans when she stepped out with muted pink hair.
After making your appointment, discussing your inspiration with a stylist, and flaunting your new hue, it's important to arm yourself with products that will ensure it lasts. Whether you're looking to nurture damaged hair or enhance your color, there's a formula out there for you. Ahead, shop The Zoe Report's list of color-saving products to make sure your Chopra-inspired hair change looks vibrant for as long as possible.
Shop The Look