How To Protect Your Hair From Chlorine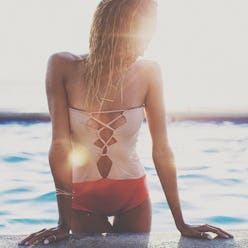 At the peak of BBQ season, we're constantly faced with the decision to either go swimming or sit on the sidelines and protect our pretty locks. Chlorine strips away natural oils and leaves hair dry, while its bleaching effects changes the color–usually for the worse–so it's safe to say that we stay out of the pool as often as possible. Here, we're sharing our tips for protecting hair from damaging chlorine–now you can partake in the festivities and maintain your beautiful mane.
Wet It Before You Dive In
Wet your hair thoroughly before jumping in the pool. This way strands soak up fresh water and leave less space for chlorine to be absorbed.
Photo: @acaciaswim
Create A Barrier
Silicone-based products and oils–like coconut and castor–create a barrier and protect hair from chlorine. Apply a generous amount on wet hair and style into a bun or braid to limit the contact of chemicals.
Get A Post-Pool Deep Clean
Wash hair with a clarifying shampoo immediately after swimming to remove dried-in chlorine. Letting it sit for hours causes more and more damage as time goes on.
Bring It Back To Life
Hair becomes extra dehydrated after a day in the sun and pool. Revive it with a moisturizing and hydrating hair mask after shampooing.