Hilary Duff Just Dyed Her Hair An Icy New Hue
Imeh Akpanudosen/Getty Images Entertainment/Getty Images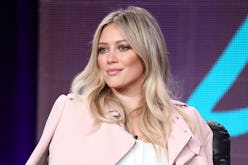 Blonde is apparently the new brunette this winter. Alongside wool coats and tartan scarves, the onset of cold weather has long been synonymous with darker hair colors, but a handful of celebrities have defied the age-old tradition lately. Although it may be an unexpected hue, Hilary Duff's new platinum hair is right on trend.
The Younger star unveiled a fresh look on Instagram late Mon. night, posting a selfie to show off her brand-new icy hue. Duff chronicled her seemingly grueling journey to platinum via a series of hilarious Instagram stories throughout the day. She he ensured viewers the process was "horrible," describing it as feeling like there were "hot flames" on her foil-clad head. Later, she referred to it as her "Martian hair."
The painful undertaking was worth it in the end, though, when she was finally able to debut her new blown-out "winter whiteout" look late that night. "'Twas a long, long day," Duff captioned her photo, "but the mission was accomplished."
Just like that, the former Lizzie McGuire actor traded in her soft ombré for a cool blonde. The dye job was a joint effort of Riawna Capri and Nikki Lee of the celebrity-favorite Nine Zero One salon.
It's the season of change for this former Disney girl, who gave birth to daughter Banks Violet Blair only a month ago. Judging by the baby pictures that have been flooding the actor's Instagram, she's been pretty preoccupied with family time. However, her latest makeover is proof that this mom isn't afraid to take some time for herself.
She isn't the only one in the family who's debuted a new hairdo lately — her partner Matthew Koma recently dyed his hair rose gold, too — nor is she the only actor opting for a lighter look this winter. While it's all too common to go darker ahead of cold weather, celebrities are surprisingly edging more towards Elsa than Snow White this season, it seems.
A week before Duff's dye job, for instance, Lucy Hale went full-on blonde after inching into lighter territory for months. The famously brunette Miranda Kerr similarly switched up her look with retro face-framing highlights in September, too.
While the platinum hue is unexpected, it shouldn't come as a surprise that Duff has chosen the boldest change of all. She's certainly no stranger to the salon chair. Duff has sported every color from gray to bubblegum pink, bright green, and just about everything in between. She's worn straight-across bangs and chopped her hair into a chin-grazing bob just the same — her look is ever-changing.
Although bold, the latest makeover isn't the most alarming transformation this actor has pulled off. You might call it comparatively mild, in fact. She and other celebrities who have recently gone lighter are proving that perhaps blondes really do have more fun, and there's only one way to find out.
Channel Hilary Duff's icy new look and book an appointment with your colorist ASAP to see whether this wintery hue is right for you. Just don't expect it to be quick (or painless).