This Candle Will Make Your Place Smell Like An Apple Orchard
topotishka/Shutterstock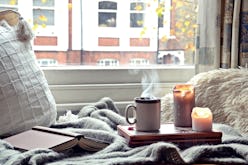 With a crispness in the air and foliage painting the trees in full color, fall has definitely made its arrival. In the name of celebrating the season, one of the best way to create ambiance in your home is with festively scented candles that warmly radiate some of autumn's best aromas — with the exception of pumpkin spice.
Now, to be clear, pumpkin spice is certainly an institution at this point when it comes to fall months, but its popularity (particularly in lattes) has overshadowed some seasonal scents that are arguably more appealing.
"There are so many wonderful scents that emerge during the typical fall day," says Tom Knotek, fragrance and sensory consultant (and former senior vice president of home fragrance for Bath & Body Works). "Early morning has a freshness from the dew combined with the woodiness of the surrounding trees, mid-day has the warmth of the distant sun that warms the dried leaves and creates a dried aroma, and evening brings a bit of coolness combined with the smokiness of a distant fire, giving off a sense of comfort." Take that, pumpkin spice.
Tami Katz and Kathryn Balcerski, fragrance experts at Serendipitee NYC, agree that spices are nice, but they're not the only options for setting the autumnal mood. "We have always been drawn to sensuous woody scents like patchouli and oud wood," they explain. "But don't forget classic nuzzle-y vanilla scents ... They deliver that sense of baking in your kitchen without falling into the more common apple, cinnamon, or pumpkin territory." That said, don't discount the other fall favorite. Apples are a great alternative to pumpkin, especially when mixed with interesting woodsy notes like oak.
And, in terms of prime candle locales, experts say there's no wrong space to burn one. In fact, Knotek points out that it's "one of the easiest ways to 'redecorate' your home." For the living room, try sumptuous and exotic scents; the kitchen, something appetizing (vanilla is ideal here); in the bathroom, keep it fresh and light (hello, apple); and the bedroom should always be alluring. Candles in the entranceway set the mood for incoming guests, and Katz and Balcerski note that a pretty flicker is also welcoming on the front porch.
And while the cost of luxury candles can definitely get pricey, there are plenty of budget-friendly options to set the mood in every room. Check out these picks under $35 that will give your home the most affordable makeover ever.