Boy Smells' Chromesthesia Candle Series Is Back & There Are 4 Totally New Fall Scents
Courtesy of Isabella Behravan for Boy Smells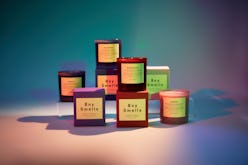 Ever play that word association game — you know the one where your friend says one thing and you respond with the first word to pop into your head, then they fire back, and so on? Associations are something that the human brain naturally comes up with, but some peoples' do so more than others to an almost otherworldly degree. Boy Smells' fall Chromesthesia Series II plays on those seemingly supernatural associations that a mind can make, in particular between color and senses like sound, sight, or smell. And along the way, it just so happens to give you the rich, warm scents that'll make your home more than ready for fall.
This is the second installment of luxury candle line Boy Smells' Chromesthesia series, the first of which landed May 2019 with a dreamy drop of three delightfully scented candles made to evoke very specific moods by way of gorgeous glass vessels and coconut and beeswax expertly blended to an exact color match. And for this new drop, the brand has upped the ante by introducing not three but four new scents and colorways inspired by chromesthesia, the behavior that generates a visual representation off the basis of your other senses (in this case, you likely guessed, it's smell).
All four 8.5 ounce candles in Chromesthesia II are now available for $34 each on the brand's site, in a range of fall-ready scents that are as rich, bold, and dreamy as the colors they come in. Let your senses lead you to choose the color you're most attracted to, between deep purple, burgundy, navy, and dahlia pink, and then let that attraction go to the next level when you light your candle to take in the intoxicating scent.
De Nîmes, named for the city in France where denim was first produced, is the color of deep indigo and combines earthy notes of almond, eucalyptus, violet, rhubarb, blueberry and juniper berries, with a rush of ambergris for a Provencal effect. It's natural, yet sleek, like slipping into your go-to jeans. On the more floral side, Philia is encased in regal, rich purple and boasts blossoming notes of ambrette seed, lilac, orris, and sparkling cassis, grounded in spicy nutmeg, sandalwood, musk and nutty hazelnut. It's a passionate scent that encapsulates falling in love with fall.
For a bold, unexpected seasonal scent, go with Cameo — its pop art pink packaging is inspired by Warhol prints and cameo portraits, and it's full of zesty ginger, soft rose, tuberose, and vanilla, plus citrusy pomelo, heavenly heliotrope and a kiss of skin musk. More traditionally, burgundy-hued Damasque (inspired by luxe woven Damask fabrics) combines notes of romantic rose, sensual cherry and sweet apricot, with woodsy, natural aromas of oud, frankincense, resin, and tobacco. It'll instantly warm up your home with cozy, autumnal vibes.
Make your spaces more fall-ready with these new launches from Boy Smells. If they do their job right, one whiff will have you instantly associating their luxe appearance with the richness of the season ahead.