This Insta-Favorite Candle Brand Just Launched Its Most Photo-Worthy Collection Yet
COURTESY OF P.F. CANDLE CO.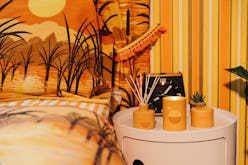 The ability of a candle's aroma to transform a space and instantly change the vibe of a room is undeniable. But, what if you could also capture a moment in time and bring it to life with just the flick of a match? Well, that's just what P.F. Candle Co.'s new Sunset collection set out to do with its range of nostalgic scents.
Unveiled on Aug. 6, the Los Angeles-based brand's latest collection is inspired by California summers in the '70s. It features four scents in soy candles for $25, reed diffusers for $34, and the brand's first-ever incense cones for $16. And, for those who are familiar with the popular fragrance company, you'll quickly see the design of this lineup is a departure from its signature amber glass and terracotta jars. That said, this range is no less chic, and will bring an eye-catching touch to your coffee table, bookshelf, and anywhere else it's needed.
The collection offers up tin and glass vessels in an earthy '70s color palette that boasts motifs channeling the scenes of a California summer. And while there's a lot of newness, what remains the same is the fact that these stylish pieces continue to deliver the wallet-friendly, luxurious scents the brand is known and loved for.
So, how do the scents shake out? First up is "Swell," which contains dazzling notes of black currant, tuberose, and sea moss and represents a sun-soaked beach day 12 p.m. Meanwhile, for an early evening of lounging you can turn to the mellow aroma of "Golden Hour," which brings together bergamot, hay, and golden poppy.
A blend of clary sage, iris, and palo santo is what you'll get with "Dusk." Described by the brand as "mysterious, dreamy, captivating," "Dusk" embodies that end-of-day feeling when you're walking home on a warm summer evening. As for the final scent? Titled "Moonrise," it's a combination of yuzu, Indian jasmine, and smoked cedarwood, which makes it ideal for those (very) late nights with friends.
Continue on to start shopping the brand's Sunset collection to bring the laidback, West-Coast feel into your home. Plus, when it comes times to wave goodbye to summer, these scents are an easy way to extend the life of the season in your living space.