All The Skin-Saving Face Masks You Need To Try From Free People's New Beauty Arrivals
Knours.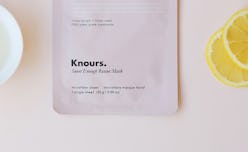 Cooler temperatures, heaters on high, and the overall lack of moisture in the air all contribute to the dreaded dry winter skin. If your complexion is already looking a bit dull and in need of a serious boost of hydration, treat yourself (and your skin) to the new face masks at Free People. You'll be able to get your glow back before the holidays without having to book an expensive facial appointment.
You may have turned to Free People in the past for its selection of fashionable fall must-haves, but the retailer also carries a wide selection of beauty essentials that are definitely worth scrolling through. The latest mix of new beauty products includes a range of skin-saving masks your winter skin will love, just in time for the dropping temperatures. With single-use sheet masks and masks for day and night, the new offerings target a range of skin troubles, but are especially focused on hydration to give you some relief from cold weather's effects.
Busy pre-holiday schedules leave little time for self care. However, you can achieve a spa-like treatment at home in 20 minutes by picking up a single-use sheet mask from Korean skincare brand Lapcos. Given that each rings in at only $3, you can scoop up several of the 11 colorful packaged styles that target different skin concerns.
If your main goal is to bring your skin back to its radiant self, then you'll want to try the "Pearl" mask. This inexpensive product contains ingredients to brighten a dull complexion while also helping to reduce the appearance of dark spots. For days when your skin is really in need of moisture, opt for the "Aqua" sheet mask to give your dry skin the hydration it needs to look its best. During the coldest months of the year, indulge your skin in its overnight counterpart, the "Aqua" Lapcos Sleeping Mask, to achieve the ultimate healthy glow by morning.
For when you're still feeling like your skin needs a little extra help during those complexion crisis moments, pick up the Sweet Enough Rescue Mask from Knours. In under 30 minutes, this sheet mask will help soothe your skin during breakouts. Its formula contains hydrating honey extract that will help revitalize and refresh your skin.
Since the holidays can be chaotic, sometimes you just might not have enough time to sit down and let a face mask sink in for 30 minutes. In that case, look to Korres' Wild Rose Advanced Brightening Sleeping Facial, a $48 overnight facial that uses vitamin C and hyaluronic acid to give you a serious dose of brightness and hydration. Simply apply it to the face and neck at night, and wake up to a glow that defies winter's drying air.
Bring your skin back to life before the holidays (and its many, many parties) arrive by shopping the masks below to solve your winter skin woes.