The Best Removers That Melt Off Even The Most Waterproof Makeup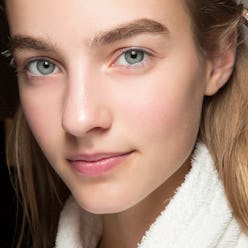 Summer can be a tricky time for beauty junkies. By day, you do everything possible to bulletproof your makeup against sweltering temps and pool parties aplenty, then at night you're faced with mascara, lipstick and brow products that won't budge. Before you go recklessly scrubbing, try these eight makeup removers that melt away even the most stubborn water-resistant products with almost zero effort. Because you shouldn't have to be punished for looking great all day.
Clean Up Your Act
Cleansing Oil
Melt off all traces of mascara and lipstick by massaging this non-irritating oil onto your face before continuing with your usual cleansing routine.
Makeup Wipes
Thicker than your average face wipe, these makeup-removing cloths are perfect for getting rid of everything on the go.
Liquid
Pour this cult-favorite makeup remover onto a cotton pad, then hold it over your eyes to let your lashes soak for a few seconds. This helps break down stuck-on mascara before wiping it away.
Cleansing Cloth
The most innovative of the bunch, this makeup-removing cloth gets to work with just H20 (no cleansing product). Just wet with warm water and gently sweep off all signs of the day's makeup.
Micellar Water
Micelles in micellar water work like a magnet to remove dirt, oil and makeup without the scrubbing, and without drying out skin.
Gel
Created specifically for waterproof makeup, this gentle gel wipes away makeup without leaving skin feeling greasy.
Balm
Rub a small amount of this makeup-removing balm onto your face and it will emulsify into an oil. Massage until makeup is completely dissolved, then use a damp cloth to wipe clean.
Micellar Foam
If you love the melting power of a micellar water and the deep-cleaning feeling of a cleanser, this micellar foam is exactly what you've been looking for.