How To Remove The Toughest Halloween Makeup, According To Hollywood Artists
IMAXtree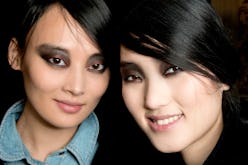 Not into the whole head-to-toe costume thing? Not a problem. This Halloween, a heavy-handed coat of makeup is all you need to make a statement (think zombie face paint with your standard jeans and tee shirt).
In a recent study from Lyst and Pinterest, the two platforms combined their data to predict the most popular costumes of 2018, and many of the top contenders prove that great Halloween makeup — from heavy foundation to liquid latex to wig adhesive — is crucial. Topping the list is Tonya Harding (think bright blush, sky-high bangs, and glitter galore), followed by Frida Kahlo (which may involve a lot of eyebrow pencil, for those of us who aren't blessed with our own bushy brows), and randomly, a flamingo (pink liquid latex, anyone?). If these stellar ideas are inspiring you to start shopping for Halloween makeup right this second (same), don't forget to stock up on the most effective Halloween makeup removers while you're at it.
With the season of glamorous, glittery makeup and spooky, DIY prosthetics upon us, I consulted two seasoned special effects makeup artists, Joyce Bonelli and Ryan Nicholson, to find out how the pros remove heavy-duty makeup (because something tells me double-cleansing isn't going to cut it).
To Remove Face & Body Paint
Unless you're a Halloween junkie, chances are your costume requires no more than a little face or body paint — or maybe a heavy coat of foundation and some falsies. "My favorite removing product is Balleck Gunk Off," special effects turned celebrity makeup artist Joyce Bonelli, who regularly works with Khloé Kardashian and Kylie Jenner, tells The Zoe Report. "And it's great for kids! It removes the fastest, which is essential with what can become a crying child in the removal process."
"Baby wipes soaked in Isopropyl Myristate will remove nearly any makeup," special effects artist Ryan Nicholson, who's worked on Predator and Blade: Trinity, tells us via email. While that string of chemicals may sound scarier than a Halloween haunted house, Isopropyl Myristate is generally regarded as safe for use on the face and body, as long as "you use a baby wipe soaked in the Myristate — not the liquid by itself," he notes.
To Remove Body Glue
Die-hard horror fan? If you're summoning your favorite ghost, ghoul, or zombie by way of prosthetics, make sure you have the proper adhesive remover on hand. Bonelli recommends "oil or alcohol, like Cinema Secrets Adhesive Remover" to help loosen any body glue. Nicholson adds that the aforementioned Isopropyl Myristate baby wipes will also remove prosthetic glue. "Don't use this liquid remover around the eyes," he warns.
To Remove The Hard Stuff
Of course, there are always the dedicated Halloween buffs who cut no corners when it comes to putting together the perfect costume: wig glue for the ultimate Ursula recreation or liquid latex for a sexy take on Mystique from X-Men. Sound familiar?
"Dish soap should work to remove liquid latex," Bonelli says. "And if not, it's back to oil, alcohol, and adhesive removal." Wig glue, however, requires a more targeted approach. Bonelli recommends using Mehron Spirit Gum Adhesive Remover, and industry favorite (which is sold in a set with the wig adhesive itself).
Finally, Bonelli cites MAC Wipes Cleansing Towelettes as an essential "for removing makeup off the whole family with ease."
"These are my must-haves!" she raves. "Less rubbing and less skin irritation, as these take off the impossible right away." The best part? You can use them all year long. (Those glittery holiday makeup looks will be here sooner than you think.)