Glitter Makeup Is Here To Stay — Here Are 12 Products To Sparkle With
Imaxtree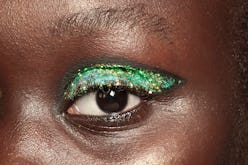 The fall and winter holiday season and glitter makeup looks are just as "groundbreaking" as florals and spring. But come on... even the most cynical of skeptics can't help but smile at the twinkle of a bejeweled lip or the shimmer of perfectly dusted lids underneath the lights.
"As we enter the New Year, I'm like a happy kid right now," celebrity makeup artist Vincent Oquendo, who works with Olivia Culpo, Lily Collins, Duckie Thot, and more tells The Zoe Report at an e.l.f. Cosmetics holiday event. "I'm like a happy baby because with all these looks that I'm seeing, everybody is so interested in the vibrant and colorful. And that is my heart line. I love these type of looks because they're joyful. They are attractive and they're aspirational."
It's a reflection of what the pro, who's frequently creating red carpet styles on his A-list clients, sees all the time these days: the bolder, the better. "The makeup trend right now, I think, is playful. We're seeing a lot of adventurous textures out there," he notes. "Glitters and bimetallics and mattes and jewel tones. Colors that we have not seen woman applying so freely before." One of his favorites? Rihanna's Allure cover, done by Priscilla Ono. "How gorgeous was that? She had the glitter on the tongue and these bold, unfinished looks that are art-inspired. That's like, my life."
As for tips on creating your own glittery moment, Oquendo encourages beauty lovers to ignore the rules. "It doesn't have to be so precious. It doesn't have to be so defined. It could be a swipe of the finger, or it could be just one color," he notes.
He pinpoints e.l.f. products as an ideal way to get the look, "because they have really great payoff of color and they are still a very affordable price point," he says, referring to the brand's 100 Color Eyeshadow Palette. "Even with other makeup brands, you see all those colors... but you're not going to get that kind of price point [with] this kind of payoff."
If you're still not convinced to ditch your regular smokey eye in exchange for some glitter, then Oquendo encourages you to take a page out of Winnie Harlow's book. The look above was inspired by the Victoria's Secret Angel, who's always down to go for the bold. "I work with her quite a bit and she's having a great moment right now. It's funny because she's really good at doing her own makeup and she let's me create these big looks. She's like, 'This is art, this is makeup art.' She says she can never think of these kinds of looks, because if she does her own makeup it's always like a gold shimmer. I push her to do bolder."
Ahead, shop some of the e.l.f. goods that Oquendo loves, as well as a few staples for starting your own sparkle party.
With reporting by Tyra Triche