How Sleep Actually Affects Your Skin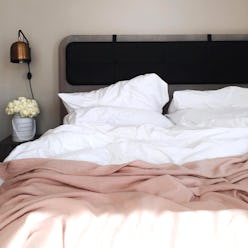 We're willing to bet that you don't get the recommended amount of sleep on a nightly basis. Who actually does? But have you ever wondered what your sleepless nights do to your skin? Well for starters, it does more than just make your dark circles worse. For the full (and terrifying) list we tapped founder of Skin Inc., Sabrina Tan. Don't worry, we got her to spill some genius tips for looking rested on days when you're anything but.
Sleep Your Way To Better Skin
It Makes You Look Older (Among Other Things)
"Some effects of sleepless nights are immediate, such as darker under-eye circles or puffiness. Others, such as increased uneven skin tone may take longer to appear especially if your sleep deficit happens frequently.
Lack of sleep disrupts the normal biorhythm of the body and skin. This rhythm plays a role in many skin functions, including normal skin repair and renewal, both of which happen overnight. In the shortened sleep cycle, your skin doesn't have enough time to repair, which can lead to inflammation, pigmentation and uneven skin tone. Lack of sleep even causes the skin to function and look older in several ways: More pronounced wrinkles, greater drooping or sagging and sallow complexion."
When You Sleep Is As Important As How Long You Sleep
"The recommended amount of sleep time is 7 hours for a wide range of ages (18-60). Repeatedly getting only 5 hours of sleep has a substantial negative influence on your skin's appearance. It's also important to get your sleep during the 'golden hours' (12am to 4am)."
What You Do Before Bed Matters Too
"If you know you won't be getting enough sleep on a particular night, your pre-snooze skincare routine can play a big role in how your skin looks in the morning. For me, my 3-step ritual is key before I go to bed, especially if i know I'm going to be getting less sleep before a big day. I always cleanse my face and apply a generous layer of the Deepsea Mask with a boost of repair serum like Vitamin A mixed in 10-15 minutes before I sleep. When I wake up 5 hours later, my skin looks better rested, plump and hydrated so I help my skin tackle the less sleep."
Have A Plan When You Know You Won't Be Sleeping Enough
"The next morning, I focus on fast-acting products for an immediate and visible difference in my skin. For a sleep-cheating routine, start with an exfoliating peel to remove dull surface cells, help stimulate the skin and prime it for the skincare. Follow with a skincare routine that combines ceramides, vitamin B3 and hyaluronic acid. My favorite tip: cool your products in the fridge and use them in the morning for an instant de-puffing facial. For even more hydration, mix your foundation and concealer with the Deepsea Mask for a flawless finish."
Know How To Get A Good-Night's Rest
"Dim the lights in the evening, turn off computers and TV, and use black-out shades to block external light (from street lights or neon signs, for example). Artificial lighting can disrupt the body's natural biorhythms and disrupts quality sleep. Try taking melatonin at night to induce sleep, especially if you are jet lagged. Lastly, some studies do show that a slight increase in body temperature might help with better quality sleep. Try wearing socks at night or making sure you're well bundled up."