Try This Easy Trick To Totally Revamp Your Apartment — Without Losing Your Security Deposit
Photographee.eu/Shutterstock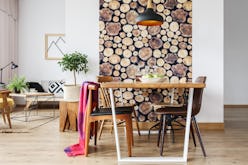 For many people, owning their own home is a major life goal. But depending on a variety of circumstances — like the cost of living in your city, your personal income, your ability to get a loan, and many others — it may be more of a far-off dream than you'd like. The good news is, there are ways to make your current rental something that feels totally your own, even if just for the short term. And with some expert-approved apartment decor ideas, you can make your space feel personalized without having to sacrifice your security deposit or upsetting your landlord.
As Vice President of Style for digital interior design service Modsy, Alessandra Wood has had to think a lot about how to dramatically transform a place you're just renting into a more customized home, which means finding solutions that don't require a major overhaul but still offer a lot of impact — and that goes beyond just the furniture and accessories you fill your space with. With a few tricks of the trade, you don't have do to any demo to get the home of your dreams, even if you won't be there forever. From smart ways to utilize wallpaper (just hear her out) to how window dressings can be a game-changer, see Wood's totally inspiring advice ahead and then get started on updating your own pad.
Freshen Up With (Removable) Wallpaper
"Often times rental apartments aren't keen on painting walls," Wood shares. "Removable wallpaper is my favorite (and affordable!) way to upgrade the aura of a room. This can add a pop of color and showcase your personal style in a bold way!" And since this is a temporary decor decision, don't be afraid to go totally bold for an accent wall effect. This abstract design from Wallshoppe instantly transforms any wall into a mural.
Swap Out Your Hardware
"One of the easiest ways to make your kitchen or bathroom a bit more personalized is with cool new hardware on your drawer pulls," says Wood. However, she adds that you'll need to make sure to stash the original knobs or handles somewhere so you can swap them back in whenever you move on to your next place. Try Anthropologie for some seriously chic options that will make everything look surprisingly more luxe.
Create Faux Built-Ins
"When your rental feels like it's lacking architectural detail, floor to ceiling bookshelves will do the trick," Wood explains. "You can mimic the look of built-ins and add a ton of storage. This is where IKEA is king — the Billy bookshelves come in an extra tall height with the option of adding glass doors for a look that feels super custom." A pro tip: match the color to your walls — or paint them to match — for the most believable built-in effect.
Layer Your Rugs
Not every apartment is blessed with beautiful hardwood floors. If you're stuck with tile or carpeting that's less-than attractive, layering rugs can be your saving grace. "While it might feel odd to add a rug on top of a rug, it helps to personalize your space with pattern and color," says Wood. "Place a rug over your wall-to-wall carpets to create a design that feels more custom to you."
Add Window Treatments
Textures in your home can really change up the mood — and that's not just limited to the textiles that cover your bed and furniture. According to Wood, how you dress your windows can create a major impact as well. "Window treatments are little luxuries that make mornings more serene," she explains. "Since rentals are a temporary home, you may not want to over-invest in window treatments but there are still options. Drapes are a great way to add a bit of softness and can easily be taken down and moved to your next place." And since they're something that can be changed out easily, don't be afraid to swap out different options with with seasons. This pom-pom trimmed velvet pair from Target will help give your place those fall feels.