This $40 Curtain From Urban Outfitters Will Brighten Up Your Bedroom
Photographee.eu/Shutterstock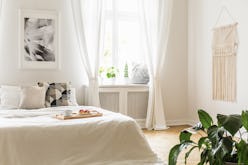 There's just something about the season that makes you want to clear out the clutter and let in the light. After a few cold, grey months, you're probably anxious to see some sunshine, and often times that translates into how you spruce up your pad for spring. And though you may not be able to afford a full-on decor overhaul for the occasion, you can still lighten and brighten up your home with just a few simple and budget-friendly additions — including curtains under $50 that will literally bring spring into your space.
There are a few easy swaps anyone can try to give any room in your home a more seasonal vibe without breaking the bank, like putting freshly cut flowers in pretty vases, accessorizing with affordable decor items in spring's trendiest shades, and of course changing your textiles to something a bit more lightweight. Think of your window dressings as you would your bedding; after the winter you want to peel off the flannel sheets and fleece blankets and replace them with linen, organic cotton, and other cooler, more breathable fabrics. The same could be said for switching up your curtains.
Colors and prints are another way to make your space feel a little springier. If you previously had darker tones that felt appropriate for winter months, you may find it refreshing to bring in lighter or brighter shades or patterns that suit the season, like florals or other nature motifs.
That said, for those of you who've got spring decor on the brain and ready to ditching past season trends — while sticking to a strict budget — it's helpful to know that you don't have to break the bank to make a major change with your window treatments. To prove the point, find 10 spring-ready curtains ahead that will make any room a bit breezier. And the best part? They're all under $50.
Florals in spring are classic for a reason, and this oversized print from Anthropologie feels modern without being overly bold.
You can always count on IKEA for an affordable version of any home accessory you're in search of — and that includes chic window dressings. Chambray feels so perfect for spring in fashion, so why not try it out in your home as well?
Let there be light with this sheer linen curtain from West Elm. The blush tone feels super spring-y but is still subtle enough to act as a neutral.
This batik cotton panel is just sheer enough to bring a little light into your space. And while the popular Indian motif is great year-round, it feels especially appropriate for spring.
The ombré pattern of this semi-sheer curtain from Overstock makes a dramatic statement in any room.
Not into traditional florals but looking for a pattern that still feels somewhat romantic and natural? The damask design on these curtains from Bed Bath & Beyond might just fit the bill.
Who says spring colors can't be bold? The marigold color of this set feels totally seasonal.
The gorgeous poppy pattern on this panel from Urban Outfitters would make any bedroom that much dreamier.
Playful, colorful pompoms add a fun touch.
Another alternative to spring florals is this branch motif, which gives a hint of spring vibes without being too on-the-nose.