Why Rug Layering Is The Decor Trend Everyone Is Jumping On Right Now
@cococarpets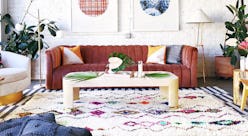 If you've been poring over the feeds of interior decor influencers, professional decorators, and your favorite home goods brands, you've probably noticed a major trend taking place right under your nose — or, rather, under your feet. Rug layering seems to be just about everywhere these days and the design technique can give any space your home a more eclectic, bohemian vibe when done well. That said, non-professionals might find this to be more aspirational than attainable. But actually learning how to layer rugs like a pro isn't as tough (or as expensive) as it may seem; you just have to follow a few key formulas.
Shopping for rugs in general can be an intimidating process: Oftentimes, they're not very affordable, and finding one to suit your design aesthetic (minimalist, maximalist, or something in between) or color scheme can pan out to be trickier than you expected. That's where turning to the pros can help. For example, Modsy is a digital interior design company which allows you the luxury of having a specialist help you strategize your decor — but for a fraction of the price of hiring an interior designer IRL. And their team, including Vice President of Style Alessandra Wood, is well-versed in all the latest trends and techniques, including how to layer rugs like a boss.
According to Wood, you're just a couple tips away from mastering the art of rug layering in your own home, whether that means playing with a mix prints, changing up scale, or even knowing which pieces may be worth a splurge. Ahead, find her advice for getting the look right, as well a range of options to consider (including a few wallet-friendly ones).
Start With a Neutral Base
If you're not much of a maximalist, your best bet might be first laying down a super-simple base layer. "Start with a larger, neutral colored rug on the bottom," Wood suggests. "Jute and natural fiber rugs look great and are usually less expensive." This is a great way for you to limit the amount of color and pattern you want to feature in your space, plus jute rugs can be found at affordable price points — even the large-scale ones.
Mix Up the Scale
Speaking of scale, combining different-sized rugs helps you achieve the eclectic feel, and it's a good way for you to utilize a piece that otherwise didn't fit. "Layering rugs is a good idea when you find a rug you're obsessed with but it's too small for your space," explains Wood. "You can add a piece you love without having to make any sacrifices!"
Combine High & Low
While you can save a few bucks on your base layer (as it might be at least partially covered), whatever you put on top should be your show piece — and that might mean spending a little extra for a piece you really love. "Splurge a bit on your top rug," Wood says. "Since you're getting this one in a smaller size, you can get one that's higher quality."
Unify With Color
A rug is a simple way to create harmony in your space, so use your statement piece to your advantage. "Make sure to add color and pattern with your top rug and match these colors to your overall room scheme," offers Wood. "This will pull the room together nicely and give it a cohesive feel!"
Go Organic
"Use an organic shaped rug (like a cowhide) that overlaps your main rug to tie another area into the space," suggests Wood. Not only will the play of different shapes create a visual interest, but the juxtaposition of textures will also help you achieve that cool, bohemian feelings as well.