Simple Ways To Make Your Apartment Feel More Glamorous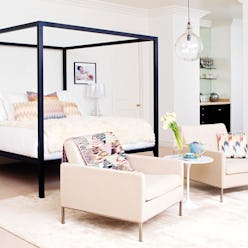 If you want to amp up your interior-design skills, you've come to the right place. When it comes to decorating your casa (yes, we refer to our rental apartment as a house), you don't have to invest in an expensive piece of furniture to make an impact. Luxe, textured touches like shag rugs and marbled ceramics can really elevate your living environment without breaking the bank. Here, easy add-ons to achieve a Pinterest-worthy pad.
Home Updates
Layer Luxe Textures
Whether you go for an ottoman, a faux-fur throw pillow or a neutral area rug, opulent textures add diversity—and can be had at any price point.
Create Dimension
Bring dimension to your dwelling with a pendant light over your kitchen table, a wall-mounted plant or decorative accessories rendered in beautiful marble, earthy crystals or modern ceramics.
Add Pops Of Color
Vibrant glass vases and subtle gold accents can make even the most simple spaces feel incredibly opulent. Have fun and speckle in color, just be sure it's evenly space throughout the room.