18 Surprising Summer Fragrances With Notes That Are *Not* Beachy
EX NIHILO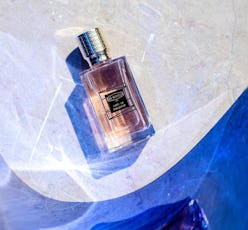 "For me, a great fragrance is like a gorgeous red lipstick," Linda Sivrican, a Los Angeles based perfumer and the founder of Orris Perfumery, tells The Zoe Report. "It goes with everything, can instantly make you feel chic, and accentuates your personal style." And just like lipstick, the most-coveted shades — or scents — change every season. For summer 2019 fragrances, that means a move towards spicy florals, unisex notes, and warm musks… basically, as far away from "beach-y" coconut- and vanilla-spiked scents as possible. After all, there are more innovative ways to evoke the feeling of summer.
"For a lot of people, the beach means aromas of cocoa or vanilla, but for us, it was important to express our idea of it through a more spicy opening," Benoît Verdier, the co-founder of EX NIHILO, tells TZR. The company's latest, Lust In Paradise, leans on pink pepper (for spice) and white peony (for sweetness). "The inspiration is the French Riviera, its whole atmosphere," Verdier explains. "It's not only beach-y, it's solar." Which is precisely why warm base notes of cedarwood and musk are intended to leave behind "the feeling of skin heated by the sun."
The fragrance touches on a key trend echoed throughout the industry: spice. "[Spicy] notes like pink pepper are fresh and radiant and make fabulous gender neutral scents," Carina Chaz, the founder and perfumer of unisex brand DedCool, tells The Zoe Report. She believes the season's focus on spice — as seen in her brand's Ivy Blanc (with pink pepper) and Carine Roitfeld's just-launched perfume line (coriander features heavily in the Lawrence formulation) — is part of a larger movement toward inclusivity. "As conversations are becoming more open, people are gravitating more and more to gender neutral scents," Chaz says.
Mint is another note set to take over the gender neutral space in summer 2019, as evidenced by DedCool's Rocco and Diptyque's Eau de Minthé, the brand's first foray into unisex fragrance. Made with Cascade mint (an herb grown on Oregon's Cascade mountains) in a nod to the Greek nymph Minthé, Diptyque says the clean scent signals "metamorphosis" and "transformation."
That's not the only, uh, herb in the spotlight, though — even perfumers can't resist the siren song of cannabis. Find it in Heretic's Dirty Grass and Carine Roitfeld's George.
Finally, brands are embracing warm, woodsy notes as a way to hint at the thrill of summer days (and nights) spent outdoors, without being too on-the-nose. "Warm scents along with prominent wood notes, such as sandalwood and oud, are unexpected," Sivrican says. "These notes evoke feelings of being grounded and comforted, and are sensual and elegant." Both can be found in her recent collaboration with contemporary artist Cassi Namoda, NAMODA X SIVRICAN, a limited-edition fragrance (only 70 bottles were produced — so scoop yours up ASAP).
Ahead, shop 19 unexpected scents for summer — from spicy-meets-floral fragrances, to unisex blends, to the sexy, sun-warmed formulas you'll want to spritz again and again.
Shop Summer Perfumes