diptyque Created The Fresh (& Unexpected) Summer Scent You've Been Looking For
Olivia Rutherford/Shutterstock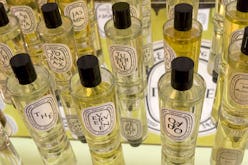 Ask anyone: Finding the right perfume can be a long process. First, you test the top notes that come moments after the initial spritz, and after those opening scents fade away, the lingering middle and base notes come through. Once you've experienced those key steps, you're left to decide which fragrance feels like an extension of you — and sometimes that could depend entirely on your mood. However, now that spring is in full swing and summer hot on its heels, you're probably in the mood for something that feels both fresh and clean — and diptyque's new Eau de Minthe fragrance may just be exactly what you're looking for.
Diptyque's latest eau de parfum is the brand's reimagined version of the fougere accord, a fragrance family commonly found in men's colognes. While this particular accord typically has a blend of notes including lavender, geranium, coumarine, and oakmoss, the cult-favorite fragrance and beauty brand is taking a new approach to the clean and familiar scent.
Available for $175, Eau de Minthe is made with Cascade mint — a unique hybrid of the herb grown on Oregon's Cascade mountains — at the center of the fragrance. And while that particular aspect of the formula may sound overwhelming, the fragrance also features floral notes like geranium and rose oxide, as well as a base of patchouli, making it the perfect mix of earthiness, florals, and freshness.
According to the brand, this new perfume is inspired by the ancient Greek nymph Minthe. In the classic myth, the nymph was transformed into the leafy herb after attempting to seduce Hades and was ultimately left to infuse the Underworld with her fragrance. Though this may sound like a doomed fate, diptyque's Eau de Minthe focuses on her story of metamorphosis and reinvention into the beloved scent of sweet mint.
The new fragrance launches soon, landing on diptyque's website as well as select boutiques across the country on May 2 — aka just in time to make this refreshing scent a part of your go-to fragrance for summer. And given diptyque's cult following, it's one you'll want to shop, stat.