Milk Makeup Is Celebrating KUSH's First Birthday With A New Mask & It's Coming Very Soon
COURTESY OF MILK MAKEUP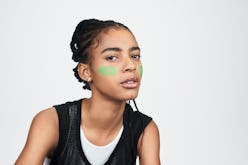 While you may be reveling in the end of winter, Milk Makeup is celebrating another exciting milestone — the first birthday of its KUSH line. To make the event even more exciting, you can take part in the festivities too — because the brand is kicking off this anniversary with the launch of an entirely new product. Meet: Milk Makeup's new Cannabis Hydrating Face Mask.
Though the reveal comes on April 1 (at the cheeky time of 4:20 p.m., no less), you'll have to wait just a little longer to get your hands on the latest gift from Milk Makeup's KUSH product line. That said, the clay mask (which appropriately comes in a shade of green) will be up for grabs on April 2 on both MilkMakeup.com and Sephora.com for $24.
The timing of the launch couldn't be better if your skin is still feeling the affects of the coldest months of the year. Not only does it work to hydrate and calm your complexion, but the mask cleanses, too. How? By bringing together three hero ingredients, with the first being hemp-derived cannabis oil, which works to hydrate and keep your skin moisturized.
Aloe is the next key component, providing another dose of hydration to soothe the skin. Plus, given that it's rich in antioxidants, aloe can help to improve your skin's elasticity while also protecting it against environmental aggravators that cause it to become irritated.
Rounding out the group of power players is Kaolin clay. The soft clay exfoliates to draw out impurities while it aids in the balance of oil and reduction of inflammation, leaving you with a fresh face. And, unlike many other masks, all the goodness comes in a compact, easy-to-use stick so you can apply it directly to your skin.
If for some reason you aren't convinced to give the product a try just yet, the fact that you can receive all the benefits in only five to 10 minutes may win you over. Yes, Milk Makeup knows you have places to be and are often in rush, so this concentrated formula won't keep you waiting. All it requires is that you apply it evenly to damp or dry skin, let it dry for the previously mentioned time frame, and rinse with warm water. Milk Makeup recommends you use it two to three times a week, but you can also spot treat particular areas in need, too.
Head over to Milk Makeup on April 2 to scoop up your stick and be sure to continue to check the site for new launches at the beginning of each week for the rest of the brand's Month of KUSH.
Readers should note that the regulations and data surrounding CBD are still developing. As such, the information contained in this post should not be construed as medical or legal advice. Always consult with your doctor before trying any substance or supplement.