Carine Roitfeld Just Launched A Beauty Collection (& It's Not Makeup)
Courtesy of Carine Roitfeld Parfums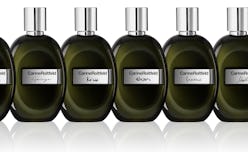 When you think of what Carine Roitfeld would classify as her ultimate accessory, maybe a shoe, bag, or piece of jewelry would come to mind first. After all, Roitfeld is one of the most powerful players in the fashion world, with enviable style to boot. Which is why you may be surprised to find out that it's not a fashion item that ranks top of her list after all — it's a scent. And now, the founder of CR Fashion Book and CR Studio is taking her love for fragrance to the next level with the newly launched Carine Roitfeld Parfums — her very own range of signature scents.
Noting that she considers "scent the most defining style signature" on her website, this collection is the style icon's first foray into fragrance, and she delivered — with not just one, but seven genderless scents. Available as of May 6, each scent rings in for $285 a bottle and is available exclusively on her namesake website, CarineRoitfeld.com, and Net-A-Porter.
"This collection has been an eight-year journey filled with passion, excitement, and many people from different moments in life who I deeply respect," said Roitfeld in a press release. "As an editor, I know how difficult it can be to translate a scent through pictures and words, which is why I wanted each parfum to tell a story, similar to how I approach each fashion shoot."
Inspired by seven lovers in seven of Roitfeld's favorite cities, these aromas each come with a story crafted by the creative visionary which bring them to life. And given the scents range from Parisian floral notes of orange flower and jasmine in "Aurélien" to the sensual, spicy woody notes of the Buenos Aires "Sebastian" — you shouldn't have a problem finding one that works for your personal aesthetic.
"Each scent tells the story of seven incredible men, some real and some from my fantasies, from seven iconic cities," said Roitfeld. "Composing this narrative for each fragrance has been a thrilling challenge, and I'm excited to finally share my stories and passion with the world."
In addition to captivating stories and luxurious aromas, the fragrances are also housed in ultra-chic, sleek glass bottles — and really, would you expect anything less from the former Vogue Paris editor-in-chief? That said, for those who can't yet decide which bottle to choose, you can scoop up the set, which includes a vial of each scent within a travel-friendly vegan leather pouch for $250. Or, opt to pick up an individual vial or two for $77 each to test out a couple you're debating between.
Continue on to shop Carine Roitfeld's "7 Lovers" perfume collection, and head over to the site to learn more about each unique aroma — there's a strong chance your new summer scent is just a click and a spritz away.