Yes, You Can Pull Off Pink Eyeshadow & Red Lipstick — Here's How
Katie Jane Hughes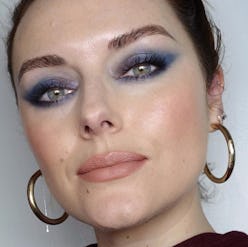 Winter, with all of its gray days and early nightfalls, is arguably the gloomiest of seasons — which is exactly why it's the ideal time to inject a little color into your makeup routine. Steel yourself against the siren song of winter neutrals (the appeal of easy nude shadow and Chapstick is hard to resist when it's still dark at 7 a.m.) and challenge yourself to try at least one of these bold winter lipstick and eyeshadow combinations.
You've probably noticed bright, in-your-face makeup trending on your Instagram feed — popular looks include yellow shadow with red lips and monochrome bubblegum pink makeup — but according to the pros, mixing and matching eye-catching hues is simple enough to pull off IRL, too. "I would recommend starting with color categories separately, so you can see how strong the colors are individually," Neil Scibelli, a celebrity makeup artist who works with model Larsen Thompson and singer Jillian Kristin Hervey of Lion Babe, tells The Zoe Report. "Then try them together — there are definitely ways to interchange the shades depending on your mood and style for the day."
Whether you're already a fan of neon brights or you think a bronze smokey eye counts as color, there's a lipstick-eyeshadow combination for you. Ahead, discover the 12 winter pairings professional makeup artists are loving this season.
Pink Eyeshadow + Red Lipstick
Makeup artist Katie Jane Hughes, the pro behind the sheer, dewy Glossier campaign looks, is the master of mixing and matching lipstick and shadow. A scroll through her Instagram reveals endless combinations, but her signature look as of late is "pink shadow and red lips," she tells The Zoe Report. Yes, the combo may sound intimidating — not to mention clashing — at first. But by following Hughes' lead, you can make the pairing work for the weekend. "One feature should be less noticeable," Hughes instructs; so opt for a pale pink shadow with a bold red lip.
Blue Eyeshadow + Greige Lipstick
It's easy to overdo it on the blue eyeshadow and end up looking like a Dynasty cast member (and not one from the recent reboot, either). To counteract the '80s vibe of cobalt shadow — only if you want to, that is — mix blue with a "cool greige-nude lipstick," Hughes tells us. (If you need a refresher, "greige" is grey-meets-beige.) The result? A fresh, modern feel fashion girls will love.
Emerald Eyeshadow + Burgundy Lipstick
"Mix jewel toned eyes, like emerald, with a bold lip," Mylah Morales, a celebrity makeup artist who's a member of both Rihanna's and J.Lo's glam squads, tells TZR. "Burgundy hues on the lips are fabulous."
Blue Eyeshadow + Rich Red Lipstick
"Think Jerry Hall in the early '80s," Nina Soriano, an editorial makeup artist whose work as appeared in Harper's Bazaar, tells The Zoe Report of her favorite primary color pairing. Be warned: This combo is not for the faint of heart. To pull it off, you need more than just a tube of Ruby Woo and Urban Decay Eyeshadow in Evidence — you need a little bit of swagger, too.
Smokey Eyeshadow + Peachy Lipstick
"Try a smokey eye with a nude peachy to pink lip," Morales suggests. For those averse to big, bold makeup, this is a subtle way to incorporate color without veering too far from your comfort zone.
Green Eyeshadow + Pale Berry Lipstick
Green is an unexpected shadow shade that makes green, hazel, and amber eyes pop. As for what to wear it with? "Berry tones," Hughes says. "Either pale or deep berry shades will work." Recreate Hughes' berries-and-cream shade, above, with MAC Cosmetics' Crosswires matte lipstick.
Navy Eyeshadow + Berry Lipstick
"I've been loving navy eyeshadow with a berry lip," Scibelli shares. "I think those colors look beautiful on deeper skin tones, and I think navy eyeshadow can be a great alternative to a dark smokey eye." The pairing isn't as in-your-face as you might think. "Berry lip colors accentuate your natural lip color, just with an added pop," the makeup artist says — so you can consider it a next-level neutral.
Inky Black Liner + Blue-Red Lipstick
"I always love a black cat eye and a red lip," Scibelli tells us. "I think it's timeless, classic, and can be worn in various ways depending on the look you're going for." Bonus: This go-to mix works on any skin tone, during any season.
Pink Eyeshadow + Magenta Lipstick
"Go for a pink on pink paring," Soriano suggests. If you're concerned about the overly girly connotation of a double dose of pink, don't be — bold shades of magenta actually look tough as hell.
Yellow Eyeshadow + Amber Lipstick
"This look is like a sunset, amber to gold," Soriano tells us. Swipe on NYX Hot Singles Eyeshadow in STFU and a coat of Too Faced Melted Matte Lipstick in Mrs. Roper on a snowy day to keep warm — at least, in terms of color tone.
Gold Eyeshadow + Warm Nude Lipstick
With gold eyeshadow as your starting point, "the sky's the limit here, really," Hughes tells us. You can go bold with a deep red lip, or bright with an eye-catching shade of orange. "But a good warm nude is chic," Hughes says — not to mention fail-proof.