Fenty Beauty's Newest Launch Is Gorgeous, Inclusive, And About To Sell Out
Diane Bondareff/AP/Shutterstock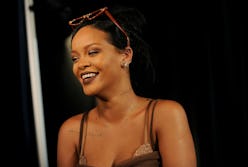 To say that Rihanna changed the landscape of how the entire world views beauty wouldn't give her due credit. And though the term "disruptive" as been used ad nauseam, disrupt is exactly what the Fenty Beauty team did — and with 40 foundation shades, dozens of lipsticks and glosses, the multi-use Matchstix, and highlighters that you can spot from a different galaxy, it's hard to imagine how else the Bajan beauty will blow everyone away. Well, friends, consider me toppled over, because Fenty Beauty just launched a universal nude lipstick that works for everyone — and it's available online only at Fenty Beauty, Sephora, and Harvey Nichols right this minute for just $24.
Stunna Lip Paint Longwear Fluid Lip Color in Unveil is the brand's second liquid lipstick, following last November's release of Uncensored, the "perfect universal red." And like Uncensored, Unveiled is packaged in a triangular tube with a curved, lip-hugging applicator. The brand boasts that it lasts 12 hours, and has a pretty, soft matte finish.
"@badgalriri tested SEVERAL shades before landing on this rich chocolate brown that looks good on EV👏🏼ERY👏🏿BODY👏🏽!" Fenty Beauty Instagrammed on Friday Sept. 21, breaking the news to its nearly 4.9 million followers. "One swipe of this liquid lip is enough to get you a long-lasting lip that'll catch every eye!"
And to build up the excitement even further, Fenty Beauty followed up the news of the release with a swatch video that shows how Unveiled looks on 400s, 300s, 200s, and 100s — deep, tan, medium, and light skin tones, as categorized by the Pro Filt'r Soft Matte Longwear Foundation.
And like the sneaky goddess she is, Rihanna already wore Unveiled before the news was even announced: To close out her Savage X Fenty Spring/Summer 2019 show in New York on Sept. 12, she made an appearance on the runway wearing the shade as she said hello to fans giving her an uproarious ovation. (Granted, everything looks good on her, but when she says something is universally flattering, I'll always take her word for it.) Aside from the Pro Filt'r foundations, the brand also offers two Gloss Bomb Universal Lip Luminizers in Fenty Glow, a shimmering rose nude, along with the recently-released Diamond Milk, a shimmering pearl.
At this point in the game, someone launching a new nude lipstick would hardly make me bat an eyelash. Although I've finally found a gloss that works for me, I still don't have The One. I've come close, but my skin tone changes with the seasons — and I'm far too lazy to spend my Saturday doing a swatch test at Sephora. And aside from that, it feels like makeup lines only consider darker skin tones as an afterthought — or really, a cash grab after seeing Fenty's success. "I never could have anticipated the emotional connection that women are having with the products and the brand as a whole," Rihanna once told Time. "Some are finding their shade of foundation for the first time, getting emotional at the counter. That's something I will never get over." Same, sis. Same.