5 Easy Steps To A Smoldering Smoky Eye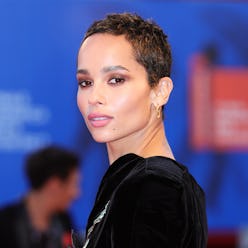 We've all been there: You get a last-minute invitation and are forced to throw together an outfit minutes before running out the door. It's for these exact moments that we keep a little black dress hanging in our closet. But while this ensures our outfit is on point, we also need the LBD-equivalent makeup look at the ready. Enter the perfect (and quick) smoky eye. Ahead, five easy steps to getting it right every time.
Smoke Show
Step 1: Get An Even Base
Starting with an eye-shadow primer is the best way to neutralize redness, create an even base and enhance the color of your shadow—not to mention extend the life of your look.
Step 2: Highlight The Brow Bone
Dust a light shadow with a hint of shimmer from the inner corners to the brow bone. This brightens up a dark color palette.
Step 3: Pack On The Dark Shadow
Use your finger to press on dark shadow over the entire lid. Cover the space between your lash line and the crease and don't worry about being too precise (scroll down to find out why).
Step 4: Blend The Crease
Use a fluffy eye-shadow brush to blend and soften the edges along the crease. Tip: Adding a second shade (like a light gray or dark brown) in the crease for dimension is totally optional.
Step 5: Add Finishing Touches
Now that your eye shadow is done, finish with a black eyeliner in the waterline and mascara on your top and bottom lashes. If you're feeling inspired, you can even top it off with a clean cat eye.