These 11 Wellness Trends Actually Work, Say Derms — & They're All At Sephora
HUM Nutrition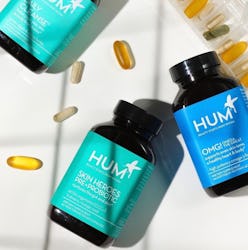 While taking my weekly scroll through new beauty arrivals, one major trend caught my eye: Sephora wellness products are in abundance. Seriously — it's a party in that section, with more and more products showing up by the minute. Collagen powder! Jade rollers! Skincare supplements! There's even something called Sex Dust! (An "adaptogenic blend of lusty superherbs," FYI.) With so many bright and shiny launches to choose from, it's hard to know what to try first... or what's been proven to work.
You're right to be a little skeptical, says Dr. Loretta Ciraldo, a Miami-based dermatologist with over 40 years experience and the co-founder of Dr. Loretta skincare. "One positive aspect of the 'inner wellness equals outer beauty' trend is that these nutraceuticals can benefit all our skin, instead of just the areas where we apply skincare," she tells The Zoe Report. "The negative aspect is that there is little science or peer-reviewed studies to show that many of these products really support their claims." That being said, the derm does endorse some of buzziest wellness-meets-skincare trends Sephora keeps in stock — like jade rollers and Omega-rich fish oil supplements.
"I suggest that before you start any of these products, take some 'before' photos," she says. "Give each of these at least two weeks — but also take photos up to three months out, since sometimes it can take a while to see results." An excuse to splurge at Sephora and take selfies? This might be the best derm advice I've ever received.
Ahead, 11 must-try products from the wellness section of Sephora, as recommended by dermatologists, nutritionists, beauty brand owners, makeup artists, and hair stylists.
Shop Sephora Wellness