10 Cult-Favorite Makeup Products At Sephora With Glowing 5-Star Reviews
Sephora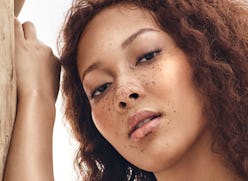 New beauty launches come and go, but the cult-favorite makeup products at Sephora stand the test of time. The beauty store's reach goes beyond the review section, or even Sephora's Beauty Insider Community forum; products that do well at Sephora become makeup staples. You may easily recognize some of Sephora's cult products from social media — like the BECCA Champagne Pop highlighter, or virtually any Anastasia Beverly Hills brow product — though other highly-rated bestsellers are more underground.
In the sake of simplifying Sephora's massive catalog, ahead are five basic beauty categories with two fan-favorite products apiece: foundation, contour and highlight, blush, brows, and mascara. Whether they're touted as "Holy Grail products" in the online beauty community or they're quietly raking in glowing 5-star reviews, scroll down to browse the makeup products Sephora shoppers can't get enough of.
Foundation
If you're used to applying a liquid foundation, the $29 Original Loose Powder Mineral Foundation from bareMinerals may surprise you — and its powdery formula may have you thinking it won't provide similar coverage. However, over 19,000 reviews give this powder foundation a near-perfect rating on Sephora's website, with fans saying it can be built from light coverage to full depending on your application. Shoppers also note that it works with a variety of skin types, including sensitive and redness-prone skin. TZR's beauty editor Khalea Underwood gave it high praise, too, saying that you won't even feel the popular lightweight foundation on your face after applying it.
Contour and Highlight
Fans don't refer to this cult highlighter color by its full name, or even as a highlighter: In the beauty community, it's simply known as BECCA Champagne Pop. Formally titled as the Shimmering Skin Perfector Pressed Highlighter in Champagne Pop, the now-famous peachy highlight was originally a limited edition collaboration with makeup artist and beauty vlogger Jaclyn Hill... before, according to Allure, it sold 25,000 units in its first 20 minutes on Sephora's website. Since then, BECCA decided to keep the fan-favorite shade around.
Blush
Alright, you already know that no cult beauty product list is complete without NARS' Blush in the head-turning shade Orgasm. And while you should pick up the best-selling blush color if it's not already a part of your makeup collection, Sephora shoppers rave about the other pretty shades from the NARS Blush line as well. Go darker for winter with the golden berry shade Sin for $30 to create a deeper, more purple flush.
Brows
Back in 2015 — when bold, defined brows were rapidly picking up popularity — Kim Kardashian shouted-out Anastasia Beverly Hills for her "on fleek" eyebrows. Though Anastasia Beverly Hills founder Anastasia Soare launched her premier product line in 2000, its cult status was cemented forevermore by way of social media posts like Kim K's. Experiment with the $18 Anastasia Beverly Hills DIPBROW Pomade if you haven't tried any ABH products before; the creamy pomade can be used to fill in patchy brows, line edges, and create small, hair-like strokes.
Mascara
Each mascara formula from Benefit Cosmetics has more than a few fans. Created with specific eyelash goals in mind, take your pick from the lengthening They're Real! mascara, volumizing BADgal BANG!, and the curling Roller Lash. Snag the $25 Roller Lash if you've struggled with eyelash curlers for too many years — the game-changing wand calls for a specific, rolling application that delivers defined, dreamy lashes.