Why These Supplements Might Eventually Replace Your Favorite Skincare Products
Solluna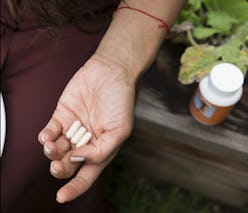 If you regularly shop online for skincare, you may have noticed a new section on some of your favorite sites. On Sephora, it's known as "Inner Beauty;" The Detox Market calls it "Wellness;" Ulta straightforwardly refers to it as "Supplements." Semantics aside, it's clear that supplements for skin health — including vitamins, mix-in powders for your smoothies, and sleep aids — are poised to take over your skincare routine right about now.
The rise of this inner-beauty-meets-outer-beauty ethos is evidenced by the ever-blurring line between skincare and wellness, with a handful of beauty brands recently launching supplements to be used alongside their serums and moisturizers (Grown Alchemist, Pacifica) — and supplement brands branching out into topical skincare, too (Solluna, Moon Juice). "We know that beauty starts with our self-care: from our skincare, to what we put in our mouths, to exercise, sleep, and even our mental health," Brook Harvey-Taylor, the founder of Pacifica Beauty, tells The Zoe Report. "Addressing beauty from the inside out was a natural progression for us." In other words, skincare has long been seen as a form of self-care — but brands and consumers are just starting to scratch the surface of self-care as skincare.
While that's a beautiful concept, one big question hangs in the air: Are skincare supplements really necessary? According to dermatologists, the answer is… kind of. "Vitamins and supplements can help the skin from the inside out," Dr. Lily Talakoub, a dermatologist with McLean Dermatology and Skincare Center, tells The Zoe Report. But she notes that while there's no doubt that a healthy diet paves the way to healthy skin, the jury is still out on whether supplements are the surest path to get there.
"There are lots of single studies to show that a person with a standard diet will benefit from taking supplements to improve their skin," Perry Romanowski, a cosmetic chemist and founder of The Beauty Brains, tells TZR. "But these have not been replicated." He maintains that if your diet is generally healthy, your skin is probably getting all the nutrients it needs from your food — which is the most efficient way for your body to absorb skin-healthy vitamins, anyway.
"Naturally occurring nutrients in foods are more compatible with your body and more readily absorbed than their supplement counterparts," Kimberly Snyder, a celebrity nutritionist and the founder of Solluna, tells The Zoe Report. According to the nutritionist, the benefits of a well-balanced diet of whole, healthy foods will be reflected in your skin. "Of course, I do recommend a few carefully selected supplements," she says. (Because it's a lot easier to pop a pill every morning than revamp your whole diet, or check the nutritional info of everything you eat throughout the day.)
Dr. Talakoub takes a similar approach to skincare supplements and recommends that her patients incorporate only the basics into their regimen. "Vitamin A helps with acne, helps resurface the skin, and prevents wrinkles," she says. "Vitamin B helps the hydration of the skin, and vitamin C helps in the creation of collagen in the skin while decreasing brown spots and pigmentation." She also cites the importance of vitamin E (it protects against free radical damage) and vitamin K (since it helps the skin's natural healing process).
"Gut health is essential to skin health," the dermatologist adds. To this end, you'll likely notice improvements in your skin by adding a probiotic to your routine, which delivers "good" bacteria to your gut and creates a healthy gut microbiome. "Re-balancing your levels of friendly bacteria via the consumption of broad spectrum soil based organisms (SBOs) is the single best way to restore digestive health," Snyder tells TZR, referencing Solluna's Feel Good SBO+ Probiotic. "This formula most closely reflects what would be found in nature, and how our ancestors obtained probiotics, by eating a small amount of soil found on wild or unwashed organic food that contains beneficial bacterium."
Another major trend in the skincare supplement space? Sleep aids. Your skin (and body, in general) goes into repair and restore mode overnight — there's a reason it's called "beauty sleep," after all. To this end, HUM Nutrition and Murad have formulated vitamins and supplements designed to promote deeper sleep (thanks to ingredients like melatonin and GABA, respectively), boosted by skin-healthy nutrients. HUM Nutrition Beauty Zzzz tablets boast vitamin B6 to hydrate, while Murad Beaty RESTore Sleep Oral Spray includes niacin to help the skin "detox" while you're deep in REM cycle.
It's no secret that your skin can benefit from a good dose of collagen as well. "Collagen is the structural protein in our skin that gives it shape," Dr. Joshua Zeichner of Zeichner Dermatology in New York City tells The Zoe Report. 75 to 80 percent of skin is made up of collagen, but that number starts decreasing around age 30. Luckily, there are no shortage of collagen products on the market to help you supplement your skin's natural supply. Dermatologists recommend reaching for a formula with a bioavailable version of the substance, such as hydrolyzed or marine collagen — although it could take anywhere from three to eight months to see noticeable results.
If you're not sure about adding a handful of pills, powders, and potions to your daily routine, Dr. Talakoub has the skincare hack for you. "I love prenatal vitamins," she tells TZR. "The blend of folic acid, fish oil, and iron works wonders for skin and hair." And as far as choosing between the aforementioned pill, powder, and liquid formulations? "They all work the same," the dermatologist says. "As long as they are manufactured by a reputable supplement maker, all three versions generally absorb similarly."
Ahead, 16 expert-approved skincare supplements that prove beauty really does begin within.
Shop Skincare Supplements