The Herbal Elixir Set That's Perfect For The Health Nut In Your Life
@byerikaelizabeth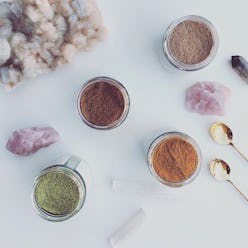 Certain friends and family members can be notoriously hard to shop for, whether because they're impossibly picky, their tastes are tough to pinpoint, or they always seem to already have the latest and greatest things on the market. And when it comes to wellness enthusiasts, the latter is often the case, since they're usually ahead of the curve with the latest herbal remedies or qi-enhancing practices. That said, with a few expert tips, you can still find some some seriously cool gifts for the health nuts in your life that will impress even the most well-versed wellness gurus in your life.
As founder of Holisticism, a platform and newsletter committed to making wellness info and tips both available and accessible to gurus and novices alike, Michelle Pellizzon happily immerses herself in the holistic world. That said, by this point, she's cultivated a list of things she loves from beauty-boosting elixirs to body-detoxifying techniques and she's the perfect resource for figuring out what to get the health conscious folks on your list.
According to Pellizzon, it's a common misconception that holistic tools and products have to cost a lot. "Wellness doesn't have to be expensive in order to be effective," she says. And in addition to suggesting a Holisticism gift card — which can score your loved one sessions with healers, holistic nutritionists, psychics, and other practitioners regardless of their zip code — she's curated a list of seven gift ideas that are guaranteed to give your gift recipient all the good vibes — and they start at just $8.
Blue Blocking Glasses
For the friend who takes in a bit too much screen time, try a pair of these protective (and surprisingly affordable) glasses. "It's extremely nerdy, but blue blocking glasses have changed my life this year," Pellizzon says. "I instantly stopped getting migraines when I started wearing these, and Izipizi are by far the cutest on the market."
Small-Batch Herbal Blends
While any self-respecting wellness enthusiast probably already has a decent stash of herbs at the ready, they're probably also curious to check out the latest blends — particularly when they've been mixed up by a well respected herbalist. "I'm all about those small batch herbalists and Erika Elizabeth's blends are totally unique from anything else I've seen, and they taste incredible," she shares. "The Beauty and Brains blend is my favorite."
Reiki-Charged Crystal Shoes
Though decidedly more of a splurge item, crystal lovers will likely lose their minds over these chic slides that are studded with charged crystals. "If you really love your friends (or love yourself) Astara Collective's Reiki-charged crystal shoes should be on your list," Pellizzon adds. "Founder Mariah Lyons created them to help wearers get grounded in their every day."
Non-Toxic Haircare Products
Like many products in the beauty industry, haircare is often loaded with toxic ingredients. But as many health gurus have learned the hard way, finding natural solutions that are also super effective can be a challenge — which is why your wellness-obsessed friend will probably be thrilled to find something non-toxic that actually works. "After buying my shampoo at Whole Foods for far too long, I'm so pleased that a company like Virtue has mastered non-toxic haircare," states Pellizzon. "Truly, my locks have never looked better, and there's something thoughtful and sweet about giving someone great shampoo that they'd never buy for themselves"
Palo Santo Matchsticks
Like sage, Palo Santo is often used to clear out negative energy and these matchstick versions are especially cool and convenient to use just about anywhere you go that could use a cleansing. "These are brilliant and adorable — and ethically sourced, which is really important," explains Pellizzon. "Palo Santo is a traditional holy wood, and I think it's always nice to tell people the history of smudging before giving them the delicious gift of Palo Sant — we're all about appreciating, not appropriating, culture."
Dry Brushing Kit
Dry brushing is a great way to stimulate blood flow and therefore help flush out the body, but it's also something not everyone thinks to invest in or make time for — which is why a kit like this one makes a great gift. "This thoughtful bundle of everything you need to get the lymph (the interstitial fluid in your joints and beneath the surface of your skin) moving," Pellizzon describes. "Your lymph system naturally detoxifies your bod, and benefits of dry brushing include improved circulation and skin tone."
Tarot Deck
It's said that it's bad karma to buy your own tarot deck — which is why it happens to be such a great gift idea for those who are interested in the mystical world. "Everyone I know is including tarot in their self-care practices," Pellizzon adds. "It's fun to open up that magical side of our brains and this gorgeous tarot deck is simple enough for beginners, and different enough for even the most seasoned tarot card readers."