Impress Even Your Biggest Foodie Friend With This $40 Gift
LStockStudio/Shutterstock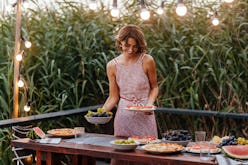 Each of your friends brings something unique to the table, whether it be a patient listening ear or always-on-point advice no matter what it is you're going through. But some of your friends do this in a more literal way — as in serving up tasty food or creative cocktails during their coveted dinner parties. And if you've got someone like this in your life, you know how daunting they can be to shop for (since they seemingly already have it all). But no matter their cooking and entertaining style, there are a few seriously impressive gifts for cooking enthusiasts that won't just help them do what they love even better, it'll make you a holiday hero.
As any entertaining aficionado knows, it's hard work putting together a food-focused soirée, but it's also a job they'll do willingly — provided they have the tools to make their culinary duties simpler, more stylish, and even more pleasurable. This could mean the most buzzworthy cookbooks, the weird-yet-totally-useful Amazon gadgets, or whatever else helps them create the kind of delicious seasonal dishes she's notorious for serving.
So what better way to thank your culinarily gifted friend than by finding the kind of things that encourage their favorite hobby (and will also likely benefit you in the end)? To help you figure out exactly what to gift them this holiday season, find 10 ideas ahead that will wow a wide variety of cooking enthusiasts.
Every great cook knows the importance of presentation, which is why it's crucial to own at least one beautiful serving platter or tray.
Exponentially improve the way she whips of smoothies, soup, sauces, and more with the high-powered blender that all the pro chefs stand by.
The anticipated follow up to Dining Out, this cookbook by New York Times bestselling author Alison Roman offers a ton of impressive but unfussy dishes that are perfect for those who love to entertain.
Help the cooking enthusiast in your life make their kitchen more sustainable with this sleek, stylish compost bin that discreetly (and odorlessly) stores food scraps.
This set of around-the-world hot sauces will allow them to spice up dishes in so many different ways.
Chrissy Teigen has pre-approved this ceramic tajine for Moroccan dishes and more (like their favorite chili recipe).
Allow your friend to stylishly store all their fancy salts in this chic marble cellar.
This starter set from Williams Sonoma includes a ton of tools that will allow them to make all their favorite pastas from scratch.
This eco-friendly tote is perfect for bringing to the farmer's market or grocery store.
Designed for the most serious cooking enthusiast, this food styling kit will allow your foodie friend to pretend they're their own version of Top Chef or Chef's Table — in their very own home. Or at least improve upon their food photography game.